Career Fair prepares students for internships and jobs
The 2019 Career Fair, hosted on Oct. 8 and 9, was held in the University Center's River View Ballroom. Around 151 employers and about 1,242 students attending. The event allowed students and employers to connect, conduct interviews, and discuss future career opportunities.
From accounting firms to tree and landscape companies, the career fair had opportunities for students to connect with a variety of employers. Characteristics that employers were looking for included: dedication, drive, confidence, passion, and a desire for experience and knowledge.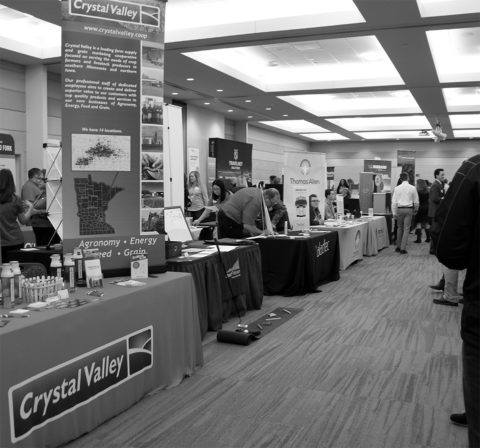 There are several things employers look for in potential employees. "Just be authentic," said Jason Agar, the human resources manager for Rainbow Tree Company. "It's pretty intimidating, I remember what it's like being a student. You have a lot of employers who just want you to be yourself."
"Know your values," said Rebecca Thraen of Lewis, Kisch, and Associates, Ltd., an accounting firm in Hastings, Minnesota. "If your values and the values of the company are the same, then you're probably a good match."
Students are encouraged to seek out employers even after the career fair has ended. Nicole Brant, the human resource coordinator for Loporex, mentioned her biggest piece of advice, "Just have a positive attitude, try to make good eye contact. It's nerve-racking for a lot of the students, but a lot of the employers here are here to help."
Lisa Wieland, a UWRF senior majoring in Communication Studies, said the Career Fair was a good opportunity to meet new people. Wieland found it difficult to find specific booths of interest to her that also related to her major. Wieland said that students shouldn't limit themselves to specific companies, but visit a variety.
The two-day event offers students a chance to interact with employers, as well as gain a sense of understanding of what those employers are looking for. "There are all kinds of opportunities out there. So to engage with employers from a wide variety of industries, explore their possibilities and expand their horizons," said McKenna Pfeiffer, the assistant director for Career Services. "Potentially there could be some internships and full-time job opportunities that come from it as well, but that's just the cherry on top."