May 12, 2021
The 20th chancellor of UW-River Falls was announced on Tuesday. The Wisconsin System Board of Regents unanimously approved Maria Gallo, who will assume the position on July 15, according to a UW-System press release. 
April 21, 2021
UW-River Falls Students received an e-mail this evening regarding a sexual assault case that occurred near campus. University Chief of Police, Karl Fleury sent out the email to students about the situation they were notified about yesterday, April 20.
April 15, 2021
The Student Voice at UW-River Falls has won eight awards for its journalism in the 2020 Collegiate Better Newspaper Contest, the Wisconsin Newspaper Association Foundation announced April 13.
April 15, 2021
The Student Government Association (SGA)  at the UW-River Falls is planning to institute a new segregated fee for a Green Fund starting in the fall of 2021. 
December 3, 2020
For the third consecutive year, a student at UW-River Falls has won a top honor from the Wisconsin Intramural-Recreational Sports Association (WIRSA).
October 6, 2020
Trey Meadows, the new head coach of men's and women's cross country at UW-River Falls, is working to keep his runners motivated even though they will not compete. Meadows said that in the wake of the recent COVID-19 restrictions on campus he still wants this to be another great season for the Falcons.
---
April 15, 2021
UW-River Falls administration is planning to have an in-person fall semester. With many midwestern states currently experiencing spikes in coronavirus cases, this decision raises questions about the safety of this decision. 
June 25, 2021
UW-River Falls has a new chancellor, Maria Gallo, who begins her duties on July 15. In their debut podcast, "Sound of the Voice," the editors of the Student Voice take a look at the process that selected the new chancellor and ask whether it could be improved.
March 11, 2020
UW-River Falls has been faced with a lawsuit regarding potential restriction of free speech on campus.  If the university does not comply by changing their policies that allegedly restrict free speech on campus, the lawsuit will follow through, according to a letter from Alliance Defending Freedom law firm sent on Feb. 10.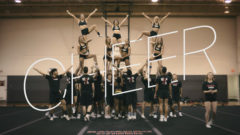 March 11, 2020
Netflix released a documentary series called "Cheer" on Jan. 8, 2020. The six-episode series is about the Navarro College cheerleading team in Corsicana, Texas. The series follows their journey to the National Cheerleading Championship, which is in Daytona, Florida. Navarro College has won 14 national championships since 2000; it also has won five NCA Grand National Championships since 2012.
March 12, 2020
In 2020 it can be very disheartening to discuss anything remotely related to politics. When in a relationship with someone that has significant political differences, I think there are a couple of ways to work around that situation.