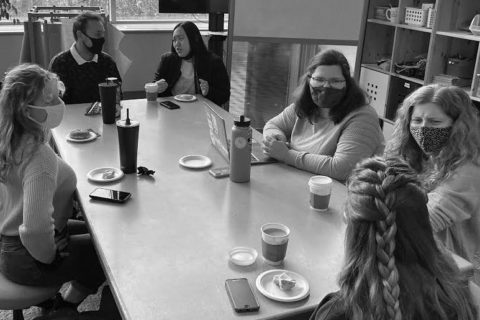 November 15, 2021
University of Wisconsin-River Falls enrollment continues to be female dominated contributing to an increasing national education gap. 
November 30, 2021
There are blue light phones located on campus for students to use when they need assistance in an emergency.
November 13, 2021
"Among all adults, young adults have the lowest vaccination rate. Every new generation is a lot smarter than the previous. We have to change this for the county and this city," said Governor Tony Evers to the student body on the University Center lawn on Sept. 27. 
November 13, 2021
As of Oct. 14th, the River Falls Campus has reached a 70% vaccination status for students. As of Nov. 1st, the vaccination rate in students has reached 73%. This is a huge milestone for the campus. Status on the Falcons Forward website displays that our vaccination rates through students continue to increase.
November 13, 2021
Men's and women's hockey teams are looking to make noise in the WIAC as season gets underway. 
October 14, 2021
On Saturday, Oct. 2, the UW-River Falls Falcons played the Eagles of UW-La Crosse in a classic WIAC football game. While the teams prepared for the contest, some UWRF tailgaters discussed what they enjoy about Falcon football games and what makes River Falls special. 
---
April 15, 2021
UW-River Falls administration is planning to have an in-person fall semester. With many midwestern states currently experiencing spikes in coronavirus cases, this decision raises questions about the safety of this decision. 
November 13, 2021
President Joe Biden proclaimed Oct. 11 to be nationally recognized as Indigenous Peoples Day. UW-River Falls celebrated this day, though may not be doing enough to honor it. 
November 13, 2021
November is a month packed with opportunities for recognition of marginalized groups. It is Native American Heritage Month, and also has Transgender awareness week and Trans day of remembrance. 
October 14, 2021
Many people believe that LGBTQ history began in June of 1969 with the Stonewall riots of New York. However, eight years prior to the Stonewall riots there was an uprising unlike anything seen before.  
October 14, 2021
The Manhattan Short Film Festival is a festival that takes place yearly all around the world. There are over 400 venues on six continents, including a venue in Hudson, Wisconsin. Ten short films are picked, and they show over the course of a week in the venues. After all of the films are shown, viewers have a chance to vote for their favorite film and their favorite actor. Manhattan Short compiles the votes and announces the winners after the festival is done airing. All the films that are shown also have the opportunity to qualify for an Oscar, but that does not necessarily mean that they will.