May 12, 2021
The 20th chancellor of UW-River Falls was announced on Tuesday. The Wisconsin System Board of Regents unanimously approved Maria Gallo, who will assume the position on July 15, according to a UW-System press release. 
October 15, 2021
A team from UW-River Falls conducted research on the Kerner Commission Report and how to teach about race relations. They will be presenting at the National Council for the Social Studies (NCSS) annual conference this November.
October 14, 2021
Career Services hosted their Career Fair in person this year. The Career Fair was a two-day event held from 10 a.m. to 2 p.m. on Wednesday, Oct. 13, and Thursday, Oct. 14. 
October 14, 2021
This year's homecoming week kicked off on Sept. 27 at 5:30 p.m. with Professor Jake's famous bean soup, which was served in the campus mall to faculty, staff, students, and community members. 
October 14, 2021
On Saturday, Oct. 2, the UW-River Falls Falcons played the Eagles of UW-La Crosse in a classic WIAC football game. While the teams prepared for the contest, some UWRF tailgaters discussed what they enjoy about Falcon football games and what makes River Falls special. 
October 14, 2021
The UW-La Crosse beat the UW-River Falls on Homecoming Saturday by a score of 45-23. The loss is the first for the Falcons this season after winning their first three games. 
---
April 15, 2021
UW-River Falls administration is planning to have an in-person fall semester. With many midwestern states currently experiencing spikes in coronavirus cases, this decision raises questions about the safety of this decision. 
October 14, 2021
Wisconsin is not Hollywood, but lots of films have been shot in the state, ranging from action to comedy. 
October 14, 2021
The Manhattan Short Film Festival is a festival that takes place yearly all around the world. There are over 400 venues on six continents, including a venue in Hudson, Wisconsin. Ten short films are picked, and they show over the course of a week in the venues. After all of the films are shown, viewers have a chance to vote for their favorite film and their favorite actor. Manhattan Short compiles the votes and announces the winners after the festival is done airing. All the films that are shown also have the opportunity to qualify for an Oscar, but that does not necessarily mean that they will.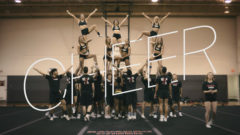 March 11, 2020
Netflix released a documentary series called "Cheer" on Jan. 8, 2020. The six-episode series is about the Navarro College cheerleading team in Corsicana, Texas. The series follows their journey to the National Cheerleading Championship, which is in Daytona, Florida. Navarro College has won 14 national championships since 2000; it also has won five NCA Grand National Championships since 2012.
October 14, 2021
Many people believe that LGBTQ history began in June of 1969 with the Stonewall riots of New York. However, eight years prior to the Stonewall riots there was an uprising unlike anything seen before.