May 12, 2021
The 20th chancellor of UW-River Falls was announced on Tuesday. The Wisconsin System Board of Regents unanimously approved Maria Gallo, who will assume the position on July 15, according to a UW-System press release. 
September 17, 2021
Students have arrived back on campus to start classes for the fall semester. Although UW-River Falls is reaching for a "normal" academic year there are noticeable adjustments to how the campus will be functioning. 
September 16, 2021
A new falcon has come to campus and landed outside of Rodli Hall in the form of a sculpture. A variety of departments on campus gathered together to collaborate on this project to bring a new tradition to the River Falls space. Director of Career Services, Melissa Wilson, Executive Director of Admissions, Sarah Nelson, and Professor of Art, Dan Paulus were key partners on this project. 
September 16, 2021
The University of Wisconsin-River Falls website, uwrf.edu, is in the midst of a makeover to improve recruitment of students and upgrade the content management system (CMS) operating the site.
September 16, 2021
The UW-River Falls women's soccer team lost to Macalester College on Sept. 8 at Ramer Field. With the loss, the Falcons drop to 1-3 overall.
September 16, 2021
It's been 658 days since the University of Wisconsin-River Falls played a home football game. The wait was worth it as the UWRF football team routed Elmhurst University (IL) by a score of 45-7 in their season opener after not playing last year due to the COVID-19 pandemic.
---
April 15, 2021
UW-River Falls administration is planning to have an in-person fall semester. With many midwestern states currently experiencing spikes in coronavirus cases, this decision raises questions about the safety of this decision. 
June 25, 2021
UW-River Falls has a new chancellor, Maria Gallo, who begins her duties on July 15. In their debut podcast, "Sound of the Voice," the editors of the Student Voice take a look at the process that selected the new chancellor and ask whether it could be improved.
March 11, 2020
UW-River Falls has been faced with a lawsuit regarding potential restriction of free speech on campus.  If the university does not comply by changing their policies that allegedly restrict free speech on campus, the lawsuit will follow through, according to a letter from Alliance Defending Freedom law firm sent on Feb. 10.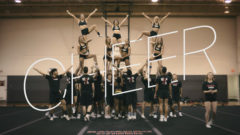 March 11, 2020
Netflix released a documentary series called "Cheer" on Jan. 8, 2020. The six-episode series is about the Navarro College cheerleading team in Corsicana, Texas. The series follows their journey to the National Cheerleading Championship, which is in Daytona, Florida. Navarro College has won 14 national championships since 2000; it also has won five NCA Grand National Championships since 2012.
March 12, 2020
In 2020 it can be very disheartening to discuss anything remotely related to politics. When in a relationship with someone that has significant political differences, I think there are a couple of ways to work around that situation.