Stage and Screen Arts performs 'Alice in Wonderland'
UW-River Falls' Stage and Screen Arts Productions presented an original adaptation of "Alice in Wonderland" in UW-River Falls' Blanche Davis Theatre from March 30 to April 2.  The play, as stated on its promotional website, follows Alice down a "mysterious rabbit hole," where she discovers a "marvelous land of unforgettable characters such as an inquisitive caterpillar, the infamous Queen of Hearts and, of course, the aptly named Mad Hatter." The play was also performed at the Old Gem Theater in New Richmond, Wisconsin.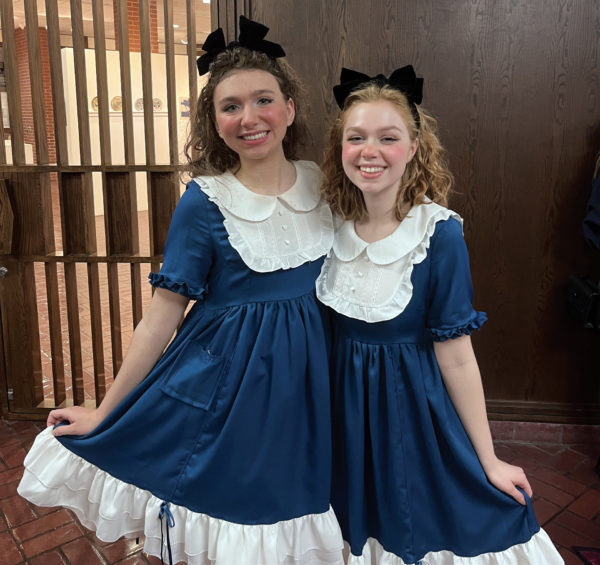 The adaptation did not utilize a large set to tell Lewis Carol's classic story, and, instead, relied on "movement and imagination," to create the world of Wonderland. Kathy Welch, who directed and adapted "Alice in Wonderland," said that the production team lacked a technical staff member who would have directed the development of a set.
"We decided to use actors and costumes and lights to create the effect and not rely on the set," Welch said. "This particular adaptation of "Alice in Wonderland" works very well for that. It's very physical; we used the active body to tell the story."
Welch described the process by which Stage and Screen Arts Productions prepares for its performances. "We'll talk to students about what kind of shows they're interested in... and take into consideration what (the faculty) are interested in directing," she said. "(We choose) shows that will show off our strengths and give students the best opportunity to perform."
After a performance has been chosen, Welch or another faculty member will work on an adaptation. "I've done ("Alice in Wonderland") and adapted in myself a couple of different times, but each time I've adapted it for the actors I had," Welch said. "I worked with the book and sketched out the plot and chose the dialogue but still kept a lot of things open until we knew what the cast was going to be."
The director will also meet with the design team, who are involved in costume design, lighting, and sound design. "We talk about the concept.. and the sort of collaborative approach we're going to take," Welch said. "Then the design team and I will meet every week until opening night." This takes place several weeks before auditions.
After auditions, the director will hold rehearsals with the actors. In addition, Welch worked with the actors to further adapt the play. She described it as "ensemble creative work," and said that "Our very earliest rehearsals were very much getting together and playing together and figuring things out... So the actors had the opportunity to... use their own imaginations."
From there, the production moves into technical rehearsals, and then, dress rehearsals. The technical rehearsals add props, lights, and sound to the rehearsals, while leaving out costumes and makeup. This takes place the weekend before opening night. Finally, dress rehearsals add costumes and makeup, and take place a few days before opening night.
Rehearsals take, according to Welch, "(around) seven weeks, and we rehearse four or five nights a week for three hours." In addition, "Alice in Wonderland" is an audience participation play, and the actors had to become familiar with interacting with the audience.
While "Alice in Wonderland" has completed its run, Stage and Screen Arts Productions is already planning next year's productions. "In the fall, one of my colleagues will be directing a staged reading, so it won't be a fully-produced script... of Columbine, which is a play about Columbine and school shootings," Welch said.
"My production is going to... (be) an immersive version of "Night of the Living Dead," Welch said. "The audience is going to enter through a kind of haunted house-like immersive experience before they (enter the theatre)." She also said that Stage and Screen Arts is planning on performing a play that deals with First Nations issues, as well as the musical "Urine Town."
"("Urine Town") is about sustainability, and about water rights. It's about greed and corruption," Welch said. "But it's funny, and the music is great."
Welch said that anyone, not just Stage and Screen Arts majors, can audition to perform.
"All of the jobs on stage and on the production give students really valuable tools: the confidence you build by going on stage, (and) the collaborative nature of it, where you work with other artists who have different ideas, and have to come together for opening night.
Welch said that if students are interested in auditioning, audition information is posted on the campus information monitors and that they can reach out to the director of the play and let them know that they're interested. In addition, Stage and Screen Arts has many theatre and acting classes that are open and available to students across the university.