Review
'Bad Grandpa' is successful, raunchy comedy flick
November 7, 2013
The people who brought you the infamous "Jackass" series are back again, taking a character from their pranks and making one funny saga out of it.
Irving Zisman has lost his wife to illness, and he could not be happier. Before he can enjoy his newfound single life, his daughter leaves him with her son, Billy. He is expected to drive Billy across the country to his father. Zisman is reluctant, but he and Billy may just have what they both want in the end. Hidden cameras record real life reactions to the duos antics, which makes for a entertaining movie.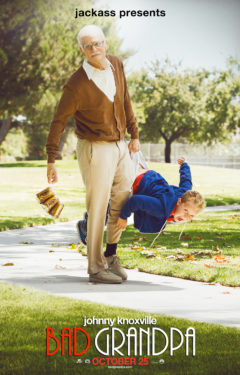 The refined men of "Jackass" have always held a bit of sentimental value to me. They were one of the few things my father, brother and I could all come laugh at. I was looking for that same feeling when I went to see "Bad Grandpa." My feelings did not cloud my objectiveness when I was viewing the movie; I was fully prepared for what might have been to come, since "Bad Grandpa" might not have lived up to my expectations. Fortunately, that was not the case with "Bad Grandpa," as it turned out to be a highly enjoyable hidden camera movie.
Like any of the "Jackass" works, the real meat of the film comes down to the offbeat, raunchy pranks pulled on the regular Joes that fall victim. Like the earlier works, it delivers very well in the gags. Some of the setups are so fun that they suck you in with how inappropriate and perfect they are.
The humor does not go beyond fecal, farting, and slapstick into intellectual heights, but what makes it great is how genuine it is with the reactions, character and crazy situations. It measured up to the original films and reminded me of the times that I watched "Jackass" with my dad and brother.
I cannot deny that the strengths of "Bad Grandpa" also serve as weaknesses. The type of shock and gross-out humor may not appeal to everyone and has a somewhat narrow demographic. The humor also is not innovative, but I think it is the genuine execution of the humor that helps "Bad Grandpa."
There is little I can say of the story and direction of the film. After all, most people do not go see "Jackass" movies to be impressed by the storyline. The direction itself has not changed from the "Jackass" days before. Although it does take a chance by using some more narrative-driven direction in some parts, which is unnecessary and makes the movie feel jaded.
There was even a sketch or two where the direction seemed to cast some people in an intentionally bad light, which I felt went against the movie's credit.
Despite the direction and story, "Bad Grandpa" still pulls itself off and stays true to itself, even if that true self is not for everyone and not for any artistic value. The weaknesses of the film, however, are made up by the humor and entertainment, which is why I recommended the movie.
Ryan Funes is a lover of all things movie, TV, video games and stories and wants to become a television writer someday. In his spare time he enjoys hanging with friends, tapping into his imagination, and watching cartoons of all kinds.