Art Sale provides opportunity for students
From ceramics and fibers, to glass blown items, paintings and more, the Annual Art Scholarship Sale has officially begun in the gallery room of the Kleinpell Fine Arts (KFA) building.
For more than 20 years the Annual Art Scholarship Sale has taken place on the UW-River Falls campus. Original handmade artwork by both art and non-art major students, faculty, alumni and community members will be available for purchase. Artists get 65 percent of the proceeds when a piece sells, which essentially covers the cost of materials used. The remaining proceeds are divided into 20 percent for scholarships for the next academic year, 10 percent for the student group Art Society and 5 percent for a visiting artist fund.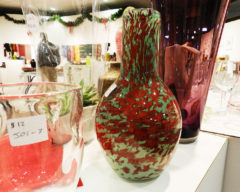 Academic Department Associate Susan Zimmer explained that the sale has provided scholarships through the art department.  For the 2012-13 academic year, $2,400 (four at $500 and one at 400) was dispersed. In 2011-12, $2,000 (four at $500), 2010-11, $2,000 (four at $500), and during the 2009-10 academic year, $3,600 (one at $1,000, three at $700 and one at $500) was awarded.
The sale began on Wednesday, Nov. 20 and goes through Wednesday, Dec. 11. Sale hours are Monday through Friday, from 10 a.m. to 8 p.m., and on Sundays from 2-4 p.m. The sale is closed for the Thanksgiving holiday from Nov. 27 through Dec. 1.
The sale is specially run and worked by students and members of the Art Society on campus who volunteer their time. Art Society co-presidents Alicia Gensch and Amanda Luke were unavailable for comment, but the Art Society has used its share of the money to send students to Sculpture Objects Functional Art and Design (SOFA) in Chicago each year. They have also funded visiting artists and provided money to student members who are attending national conferences in their fields of study each year, according to Zimmer.
Trista Schrader is a senior studying broad area art at UWRF. She was preparing to sell some of her art, and figuring out how to price the items. Schrader said that she was not planning on applying for any of the scholarships.
"It's a good way to get my name known and make a little money with pieces that sell," Schrader said. "I'm doing it to gain knowledge and experience about selling art."
According to Kaylee Spencer, art department chair, artists pick out and price their own art as they see fit. It is probably the most difficult part of their process of getting things ready. With hundreds of objects sold, students re-stock and remove some items every couple of days depending on how much of an item sells, or does not sell.
Lots of faculty, staff, and community members come in and buy what they like, but they also like to know who the artist is, so they will "track" the artist's career.
"Some of the collectors pick out things and recognize that the person has the potential to be a well-known and collectable artist, they like to watch the artist grow and have pieces of their artwork," Spencer said.
As a small event that signals that holiday shopping is around the corner, the event is big within the art department and on campus. People on campus and in the community always ask about the sale and when it is, according to Spencer.
"This sale is an opportunity for the campus and community to see the skill of the art students at UW-River Falls," Zimmer said. "Each piece is handmade and usually takes several days to complete."