Freddy 2Go implemented as carryout option
Riverside Commons, the primary dining facility for meal plan participants, recently implemented a new carryout program for the 2013-2014 school year called Freddy 2Go.
"It's a new trend on campuses in the nation," said University Center Director Cara Rubis in response to the new program.
The decision was made after the Dining Services Advisory Committee (DSAC) listened to student feedback from the 2012 school year. DSAC is a student-run committee that aims at bettering dining services.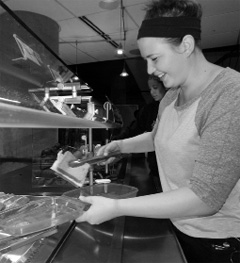 Freddy 2Go is available for breakfast, lunch and dinner during the week.
"A lot of people wanted it here because of the convenience," said DSAC Vice Chair Bethany Lewis.
Freddy 2Go provides students with the option to take their meals to go. Students are given a 2Go container as they enter Riverside Commons and indicate their takeout preference. They are asked to return the 2Go container when they return for their next meal at Riverside Commons.
The 2Go container is free to use for students that are meal plan participants. If the container is not returned by the end of the semester, a $5 fee is charged to the student's account. Freddy 2Go is not available on weekends or  during Finals Week, but it does allow students the ability to better micromanage their lunch hour and in-between classes at Riverside Commons.
"I think it provides the convenience of a cold transfer, but there is variety for students especially during lunch," said  DSAC Chair Thomas Thuente on the new carryout option.
Riverside Commons publishes a menu on a weekly basis, giving students a variety in a buffet style setting. "This allows students to be exposed to different, healthy types of food with on-campus meals," Rubis said.
Not only does the carryout option allow for students to swiftly grab food before class, it alleviates the capacity issue at Riverside Commons during the lunch hour, which starts  around noon, when students are found cramming into Riverside Commons.
Breakfast and dinner currently do not have any capacity issues due to the different times available for students to eat.
"People used to wait for tables at lunch. Now, not so much,"  Thuente said.
Riverside Commons is most frequented by freshman and sophomore students required to live on campus. All students who live in residence halls, with an exception to George R. Fields South Forks Suites, must purchase a meal plan.
"The capacity issue is slowly fixing itself," Rubis said. "Our goal is that 10 percent of the student meal plan participants partake in Freddy 2Go."
DSAC will begin holding bi-weekly meetings once they conclude the Hall Council elections for the 2013 term DSAC positions. The meetings are open to the public.
Students are encouraged to voice their opinions, questions and any concerns they may have involving dining services on campus.
Students are also strongly urged to email their questions or concerns to diningservices@uwrf.edu if they are unable to attend the meetings.