Review
Audiences eagerly anticipate 'Game of Thrones' season eight
"Game of Thrones" is a good example of a phenomena that can sometimes take place in the modern entertainment industry: a good product. Since its premiere back in April of 2011, "Game of Thrones" has continued to grow in popularity and is expected to grow even more popular due to the upcoming season eight premiere. So what do we know about "Game of Thrones" season eight so far, and what can we predict?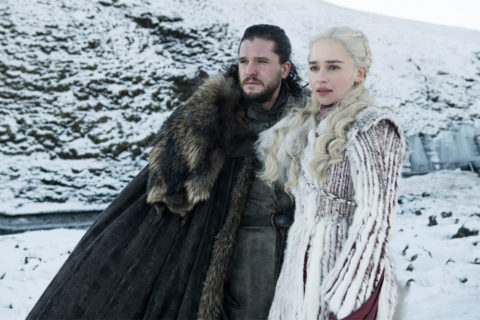 Before I begin spoiling the series for those of you that haven't began watching the show yet, let me through out some statistics. "Game of Thrones" is the second most popular TV show of all time according to the IMDb popularity chart. "Game of Thrones" is also one of the only TV shows to have over a 90 percent on Rotten Tomatoes in both average audience score and average tomatometer score. If these statistics have peaked your interests at all, then watch the series; it will not be a mistake.
Major spoilers ahead, proceed with caution.
"Game of Thrones" season eight will premiere on April 14, 2019. With only a month left to wait, audiences eagerly anticipate any teaser for what is yet to come.
Considering that season eight is the end of the series, it's pretty easy to predict what has to happenbeforethe series finale. The seven kingdoms need to work together in some capacity to fight against the night king and the army of the dead. However, this doesn't mean that the living has to actually defeat the army of the dead. It is still up in the air as to which side will be victorious.
Another plot point that needs to be addressed would be Theon Greyjoy attempting to rescue his sister from Euron Greyjoy. The directions that this plot point could go are limitless, whether Theon rescues his sister or dies trying.
The second largest plot point, in my opinion, is who will sit on the iron throne when the series ends. Current Cersei Lannister resides in King's Landing "ruling over the seven kingdoms," however come the end of the series who will rule. Will Cersei rule with the assistance of Euron Greyjoy, or will Euron Backstab Cersei and try to take the iron throne? Will Daenerys Targaryen sit on the iron throne as her father, the Mad King, once did? Will it be Jon Snow, or as we learned in season seven Aegon Targaryen, the current King In The North that will sit on the iron throne?
Definitively, all we can know is this: Theon will try to save his sister. Jon will try and defend the Seven Kingdoms from the Night King and the army of the undead, with the support of many others. Cersei will most likely do something detestable, it's kind of in her character. Finally Eugon will probably do something crazy again. But in all seriousness, nobody knows what will happen, not even readers of the books know anymore, so it's all up in the air.
Make sure to not miss the premier of Game of Thrones season eight on April 14, 2019. If you haven't started watching it yet, it's a month away - the perfect amount of time to binge the first seven seasons. Lucky for you every student at UWRF has HBO included in their tuition, have fun.