Sen. Tammy Baldwin campaigns for reelection at UW-River Falls
With the 2018 Midterm elections only 10 days away from taking place on November 6. Many politicians are on their last-minute trips on the campaign trail to meet with their current or future constitutes to talk to them about the issues they will fight for their people if elected. The University of Wisconsin-River Falls is a notable stop for many politicians on the campaign trail in Wisconsin, and on Thursday, October 25th, United States Senator for Wisconsin, Tammy Baldwin paid a visit to campus to speak with students and the River Falls community about her reelection campaign.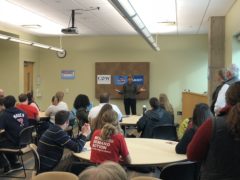 The event was hosted as a meet and greet. It started with UWRF College Democrats Chair Jordan Brundidge speaking on College Democrats work throughout the past year on getting students politically active and working with local politicians. A highlight of work that the UWRF College Democrats did in the past year was working on the campaign for Patty Schachtner to be elected as the state senator for Wisconsin's 10th Senate District. The 10th Senate District of Wisconsin includes the counties of Burnett, Dunn, Pierce, Polk, and St. Croix. Brundidge then welcomed Senator Schachtner to the speak to the audience, to give her background as a state senator to the audience.
Senator Schachtner then went into introducing the speaker of note, Senator Baldwin. Baldwin's first topic of discussion was on the importance of participating in politics by voting. "I know from personal experience that when we don't participate in large numbers, those who always vote will actually control the agenda and control the outcomes of policy decisions," said Baldwin. "Right now I think we realize that each of us can have a very powerful voice when use our votes. Not to reflect too much on what's happened in 2016, but more on what has happened since then. Washington appears to most Wisconsinites as a total mess. From a distance and even there it's a mess, and when Washington is not working, it means it's not working for us. For our families and our communities, but I would emphasize it is looking really well for some."
Senator Baldwin took some time to talk about what her main focus to help college students would be if she were reelected. Baldwin said, "Certainly the issue of college debt is a huge issue to me. I kind of look at it across the spectrum, so you heard me talk about standing up to Wall Street to change the rules so that people already in current debt can refinance to lower interest rates. Then I also want to look at the generation that's in school so I have been throughout my career pushing to increase the Pell Grant so that it keeps up with the increase in costs for tuition and going to get a higher education."
For those unaware, the Pell Grant is a federal student loan that "is awarded only to undergraduate students who display exceptional financial need and have not earned a bachelor's, graduate, or professional degree," all according to the Federal Student Loan Office in the United States Department of Education.
Baldwin continued speaking on her plans to help college students saying, "I'd also like to have a longer range vision on all of this, so I have written a bill called America's College Promise. The idea is through a federal/state partnership that the first two years of college would be tuition free at a public technical college or at a community college. The other rule would be every credit earned at such a college would be transferable to a four year if you want to get a bachelor's degree. If you want to end there it leaves you better prepared for the economy today than if you just have a high school diploma."