Falcons fall to UW-Oshkosh in rematch of WIAC title game
The UWRF men's basketball team fell in a hard-fought contest to WIAC foe UW-Oshkosh 78-57 on Saturday night at Page Arena.
UW-Oshkosh, ranked 19th in the country, led by only three points at halftime but used an early 16-3 in the second half to create a gap the Falcons wouldn't seriously threaten again.
"We went from down seven to down 16 in a minute and a half," head coach Jeff Berkhof said. "They blocked a shot and then pushed for transition threes. Transition defense and not getting back was the main factor, but it started with our offense by making sure we get a good shot."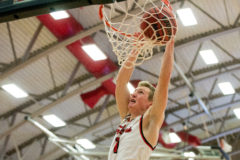 That crucial stretch created a spark for the UW-Oshkosh Titans, who shot 57 percent on threes in the second half and outscored the Falcons by 18 points after the break.
Falcons guard Clay Seifert made the crowd of 753 fans get off their feet when he threw down a thunderous dunk with 6 minutes remaining to cut the deficit to 13 points, but the Falcons failed to stop the Titans from scoring down the stretch.
"They're a well-rounded team that has some of the most length as any team in the (WIAC)," Berkhof said. "You combine those things with an experienced backcourt, and when we are a team that likes to get the ball inside, that's going to cause more problems than other teams."
The Titans' 6'8 center Jack Flynn caused problems for the Falcons on both sides of the ball, with Flynn finishing with 14 points and 4 rebounds.
UW-Oshkosh guards Ben Boots and Charlie Noone added 15 and 13 points each and combined for 8 rebounds. The pair have been a mainstay in the Titans backcourt for multiple seasons and proved to be especially challenging due to recent injuries to the Falcons.
UWRF guards Devin Buckley and Matt Timlin have both suffered sprained ankles in recent games. This led the Falcons to have to run a variety of different lineups that haven't seen much time together on the court with two rotation players missing. However, Berkhof pointed out that injuries haven't been the problem for this team.
"They've missed a game or two, but it hasn't been a major factor in how our team has played the last two games," Berkhof said. "The effort is just fine, but if you're not playing smart and not executing … you can have great effort and still get beat."
A 14-point win over UW-Eau Claire and the loss to the Titans showed the two ways that the WIAC season has gone for the Falcons so far. They sit at fifth place in the conference at 4-4, with previously unranked teams UW-Stevens Point and UW-Platteville sitting at the top.
"The emergence of Point and Platteville, who were both towards the bottom last year … is a surprise," Berkhof said. "Everybody is solid, so if you don't show up, you're gonna get beat. It's always been that way (in the WIAC), but this year more than others."
UWRF has managed a solid home record, going 8-2 since Page Arena first opened. However, Berkhof said the home-court advantage hasn't had a huge factor in the conference this year. The Falcons traveled to top-5 ranked Whitewater and won on the road in January but followed that performance with what Berkhof called one of their worst performances of the year in a home loss to UW-La Crosse.
The Falcons have had their ups and downs in the first half of the conference season, but the one consistent factor has been senior forward Alex Herink. Herink is averaging almost 16 points a game this season but finished with 27 points in 33 minutes of action on Saturday. He also made half of the entire team's field goal attempts against UW-Oshkosh.
"When we have four or five guys right there in scoring, we are more successful winning games," Berkhof said. "We usually have a little more balance in our scoring (than on Saturday). When we beat UW-Eau Claire, we had five guys with nine or more points, and ideally that's how we would like to go."
The WIAC conference tournament is still a few weeks away, with the winner gaining an automatic entry into the NCAA tournament. Berkhof still sees one specific area of play that can help his team get to the next level.
"Being more consistent on the defensive end and being more focused and locked in," he said. "We haven't been awful, but we could be so much better. A lot of good things can happen this year."
The Falcons will host their next game at Page Arena when they take on UW-Whitewater on Feb. 10 at 5 p.m. for alumni day.