Opinion
Keeping up to date, informed with news
April 11, 2014
Ever since I chose to become a journalism major, I decided that I should start caring about what is going on in the world and start reading the news. In order to get informed in the most convenient fashion, I downloaded a news application and started reading it every day. Ever since then, I have learned a lot about our world that I would not have known without attempting to learn about it – the horrible mudslide in Washington, the missing Malaysian airplane and everything that has been going on in the Ukraine. I have learned a lot, but one big thing I have learned, however, is how little other people care about the news.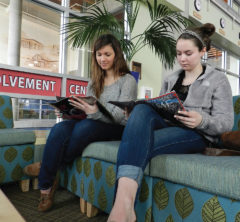 As I have mentioned in my earlier columns, I am extremely awkward and therefore I am always looking for interesting topics of conversation to fill in awkward silences and cover up my lack of social skills. Ever since I have started reading the news, I have been informing the people I converse with about the news and giving my opinion on it. Also, during this news informing session, I have learned a pretty significant thing -- people do not want to be burdened by the news.
I mean, I get it. Let's face it -- the stories that make the front page are mostly negative. The bad things that happen around the world -- corruption, death, disasters -- it is newsworthy. However, most of the time this kind of breaking news ends up leaving a foul taste in our mouths. We do not want to feel scared or worried or devastated. We do not want to stay up at night worrying about the future of our country and the future of the world. Why bother, right? We want to feel happy, so we only want to hear the things that give us that warm, fuzzy feeling. We want to watch those heartwarming videos of soldiers surprising their families and we want to feel good about what is going on in the world. Even if that feeling is a bit misguided.
Now, as a future journalist, and just as a person, this scares quite a bit. Of course, I want people to care about what's going on in the world, because someday it will be my job to tell about it. I want people to care so I will be able to have a job and be successful in it. However, that is not the only reason I wish more people wanted to hear the news -- it would be pretty selfish of me if it was. The thing is, if we do not care about all the wrong that is happening around us, how are we going to ever change it? How are we going to find injustice if we are not looking for it, watching out not only for ourselves, but for those who do not seem to have a voice?
As citizens in a country where we have a voice that can be heard, it is our job to recognize when something is wrong and to evoke change. There is no democracy without knowledge in what is going on around us. We get to have opinions, we get to vote and we get to protest things that seem crazy or unfair. But how can we do that if we do not recognize what is going on around us? Ignorance is not bliss, and the truth is that I never knew about all of the garbage that has been happening until I decided that it was my turn to get informed. So, to step down from my high horse, I will leave you with this: watch the news, pick up a newspaper or download an app because, as young adults in a country where we have a voice, it is our time to care.
Natalie Howell is an alumna of UW-River Falls. She was editor of the <em>Student Voice</em> during the 2016-2017 academic year.