Opinion
Student makes memories with UWRF's International Classroom
March 18, 2023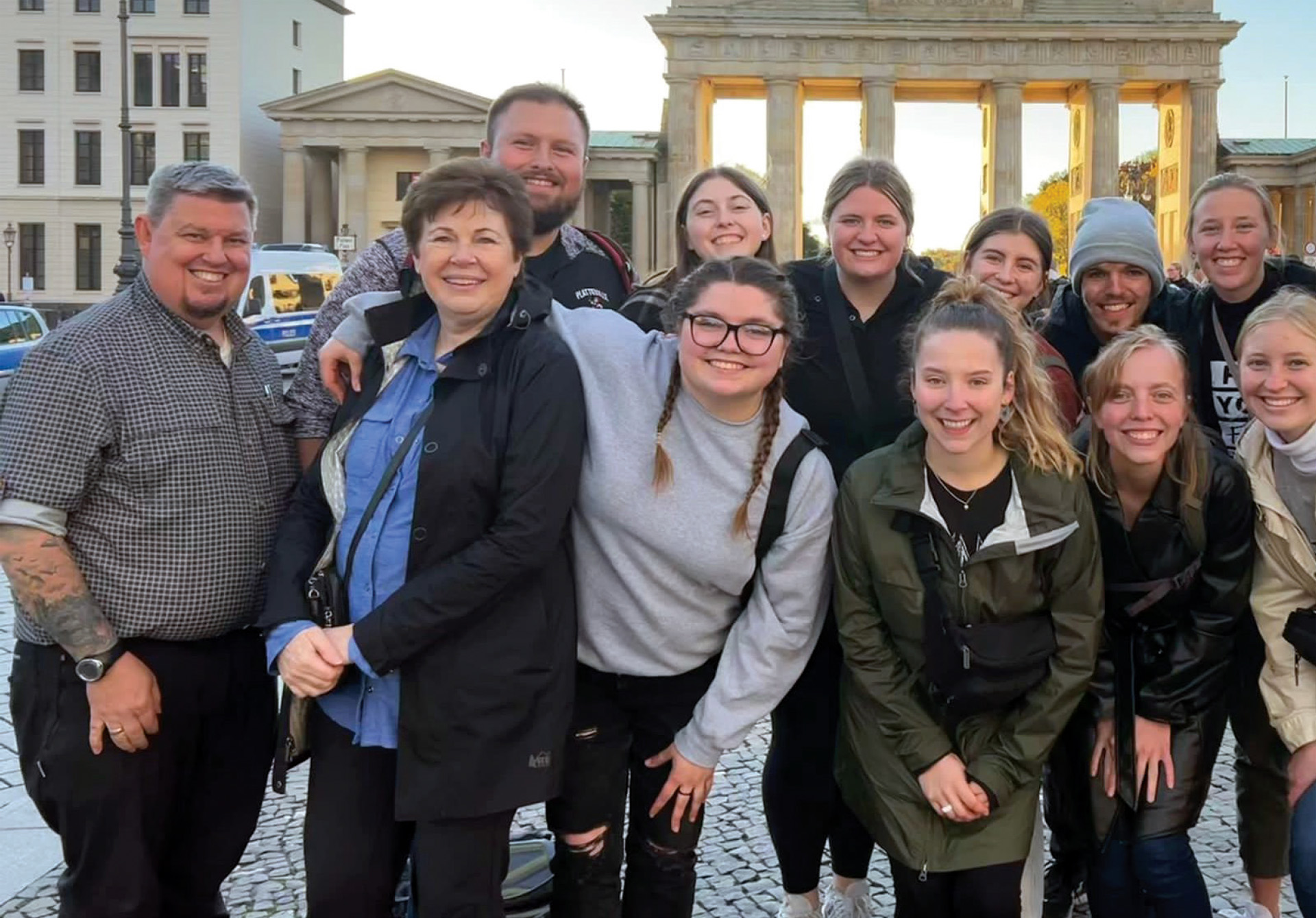 I've always been told that studying abroad for a semester would be an experience I'd never forget, and that could not be more true. After spending time with 11 amazing students, seeing the world, and exploring new cultures, I have not only been able to grow in my education, but as a person. 
It's scary to cross the globe with a group of strangers, knowing you won't be returning for 88 days. You miss your home, your family, your pets, and your wardrobe, but giving it all up for just a short amount of time is more than worth it. If I could do it again, I absolutely would.
Exploring new and different cultures can be intimidating, but when you let go of that fear and really soak it in, it's one of the most incredible experiences you can have. Every day, I find myself remembering small details of what I experienced during those 88 days and wish I could go back and experience them again. To sit under the shining Eiffel Tower at night with people you have grown close to is something everyone should experience in their lives.
During the 2022 fall semester, I studied abroad through the UW-River Falls International Traveling Classroom. On Aug. 31, we touched ground in Edinburgh, Scotland. After a long wait for our bus to pick us up, we headed to Newbattle Abbey College, where we stayed for the next month. During our time here, we experienced everything there was to do in the little town of Dalkeith, Edinburgh, and the highlands of Scotland. 
The program was well-structured but allowed time for independent travel as well. While in the United Kingdom, I was able to spend a busy weekend in London, see the shores of Oban, experience Glasgow and its Celtic Park, spend a day in North Berwick, and climb to the top of Arthur's Seat.
The scenery was great, the food was questionable, and the people were kind. Then, one event that shocked the world happened only 80 miles away from Newbattle Abbey. On Sept. 8, Queen Elizabeth II died at Balmoral Castle and the announcement was shared while we were sitting in class.
The weekend of Sept. 11 was when some of us took a trip to London. We stood in a four-hour line that day through St. James Park to see Buckingham Palace. Flowers were spread all over the park and along the gates of the palace for the Queen; it was an extremely historic occasion and I'm very lucky to have been able to have seen it. 
We were back in Edinburgh on the 12th to see the procession along the Royal Mile to the Palace of Holyroodhouse, where we could see the Queen's casket and a glimpse of the new King.
As our time in Scotland came to an end, we spent our last weekend exploring the Highlands with an amazing tour group. We saw some of the most beautiful sights of the entire trip: The Clava Cairns, Lake Loch Ness, the Isle of Skye, the Jurassic Coast, the Three Sisters of Glencoe, and some highland cows just to name a few. It was a rainy weekend, but we had some of the most fun of our entire 88-day trip. 
Our next destination was Amsterdam, but not before a quick weekend in Bruges, Belgium. Only a few of us went, but speaking from experience, there's nothing better than only having coffee, waffles, chocolate, and fries for a few days.
Amsterdam ended up being my favorite location. Our hostel, Generator, was modern and a lot of fun. While here, we toured the International Criminal Court, spent an afternoon in Delft, went to the markets, took an evening canal boat tour, and walked through the Anne Frank House and Van Gogh Museum. Amsterdam is beautiful, and I promised myself I will return someday.
Our transition trip leaving Amsterdam was spent in Prague. The Prague Castle was stunning, and in the evening we walked through the world-famous light show. Our walking tour took us through all the most important areas of the city, and we were able to watch the medieval clock, the Orloj, change to the next hour in the Old Town Square. 
Classes continued in Berlin. We stayed at a Youth Hostel about 20 minutes outside of the city. All of the World War II history was extremely moving. It's obvious the city works to keep its history alive, but does so very carefully. The beautiful autumn colors of the trees are forever ingrained in my memory. 
We were busy this week, touring the city by bike, visiting the Sachsenhausen Death Camp, walking through Sanssouci Palace, and going to the Berlin Olympic Stadium for a football game. The walk along the East Side Gallery is unforgettable, as well as the döner kebabs.
Seeing the mountains of Switzerland in Interlaken was stunning, but walking through the Swiss Alps in Grindelwald was even more alluring. Everyone was starting to feel the strain from the constant travel, and an afternoon connecting with nature in the mountains was exactly what we needed.
At the end of our mountainous weekend, hours were spent sitting in the hot tub with some others we met at the hostel. We stayed at Balmers Herberge, which was one of the coolest hostels of the entire trip. I will never forget the bowls of pasta the pizza restaurant served next door. 
Although we were sad to leave Switzerland, our next location for classes was Paris, France. In short, the Eiffel Tower is as awesome as everyone says. I have never walked through so many museums or drank so many cappuccinos! Here, our class was Arts and Ideas II, and I saw enough art to last me a lifetime.
My fondest memory while in Paris was the night of Nov. 1, when we headed to the Eiffel Tower after dinner to sit and play cards under its famous light show. Some of us reserved tickets to head up, but I enjoyed sitting at the bottom to enjoy the peace. This was one of my "a-ha" moments, where the reality of my surroundings really sunk in. I will never forget that night.
Our next location for class was Freiburg im Breisgau, Germany, but we only had one day to get there from Paris. A group of us rented an Airbnb in Colmar, France for the night where I slept in the most comfortable bed yet. We were so excited to have a TV to watch from.
Freiburg was the perfect location to wrap up our schoolwork. It is a small town in the Black Forest of Germany and is well known for the im Freiburger Münster and the narrow canals that line the streets, known as Bächle. These were used to supply the town with water during the middle ages, but today, mythology says if you fall in, you will find love.
Everyone loved Freiburg; we would have classes in the morning until noon, then head right into town for the market by the Münster to get a cheap lunch. Every day it was a different kind of wurst, a glass of homemade wine, and a cappuccino from various food trucks. 
Until this point, all of my travel had been with others. But once our time was up in Freiburg, I had to catch an early train to Amsterdam to meet up with my boyfriend, who flew in to spend some time with me. 
After classes wrapped up, we had about two weeks to travel independently and see what we wanted. After a long day of sitting on the train, I was finally able to see my boyfriend again, and the moment was as magical as I expected. At this point, I had been in Europe for 72 days. 
We spent the day exploring some of Amsterdam, and the next morning we went to Lucerne, Switzerland. The next few days were spent exploring the town and eating lots of chocolate. Switzerland has one of the best water resources in the world, and the town was full of free-flowing water fountains that were safe to drink from. 
These free travel days were some of the best days of the entire trip. Being able to explore on my own schedule and do what I wanted was freeing, and doing so with my partner made the whole experience even more incredible. My dad was flying into Zurich to meet us, so we headed there a few nights early to pick him up. We took advantage of all the free chocolate the Lindt museum offered during its tour and took the night to catch up on some laundry. 
We headed right to Genoa, Italy after my dad arrived in Zurich. On the train, we were able to enjoy some last-minute sights of the mountains and catch up on what happened during the last 78 days. We had four nights to spend here at our nautical-themed hostel and I ate all of the pesto pasta I could. This city was relatively walkable, so we didn't have to rely on public transportation at all.
On the first day, we stumbled across the world-famous aquarium and saw most of the main tourist attractions by the water. We took it slow and enjoyed the sights at our own pace, seeing Porto Antico, Piazza de Ferrari, and some of Museo di Palazzo Reale. 
I had to return to Amsterdam to catch up with my group again before flying home, so I decided to head there a day early so I could show my dad and boyfriend some of the city before they left. I booked us tickets to the Anne Frank House and reserved us seats on a boat tour of the canals. I was most excited, however, about taking my boyfriend to Luuk's Coffee. 
Leaving Europe was just as hard as it was leaving home 88 days prior. On our last day, we went out for a group dinner at the Hard Rock Cafe in Amsterdam and I was so thankful to be where I was. It was hard being away, but leaving the people I had grown so close to was making me sad. I had adjusted to this way of life and knew I would miss the adventure. 
I am thankful to have been able to sit under the Eiffel tower, walk in the Swiss Alps, stroll over Amsterdam's canals, and tour the old alleys of Edinburgh. While indulging in reality across the world from my home, I was taken back in time to learn about the past and prepare myself better for the future. I am lucky, I am blessed, and I am forever grateful to the people who pushed me to pursue my dreams of going abroad. 
The study abroad programs at UWRF gave me the best three months of my life, and I would not have been able to do so if the pandemic prevented travels any longer. Going abroad during my senior year was not my original plan, but I'm thankful I had the opportunity. The Office of International Education does awesome work to provide any student with the opportunity to explore and see the world. The biggest point I would like to get across is this: if you want to go, go. Don't hold back and risk regretting it in the future. The money is temporary, but the memories are forever.
Anna Gunderson is a student at UW-River Falls.