Minnesota Public Radio's Kerri Miller speaks at UWRF Working Journalists Seminar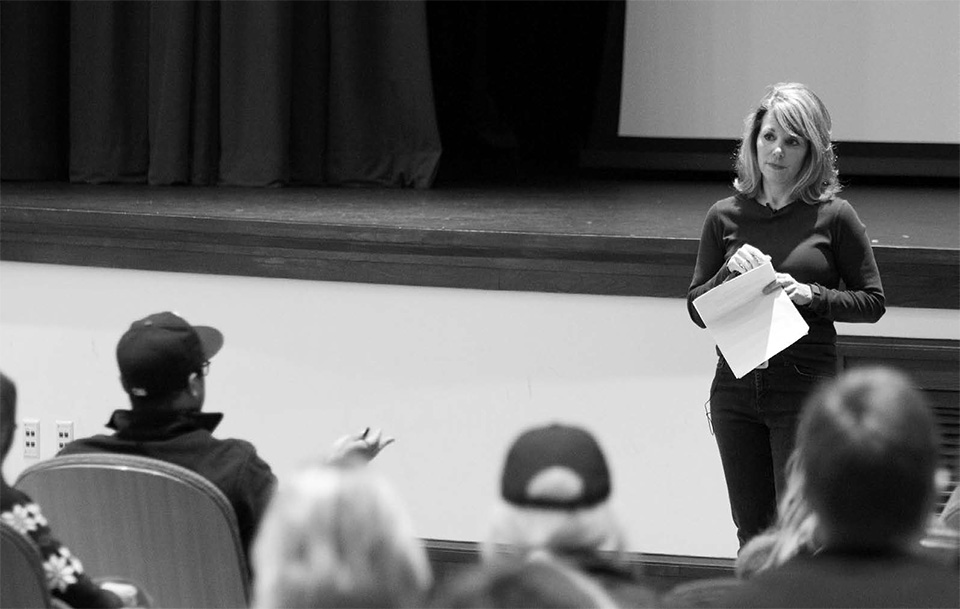 Minnesota Public Radio personality Kerri Miller spoke at UWRF as part of the Working Journalists Seminar Series on Thursday, March 31.
Miller hosts MPR News with Kerri Miller and the series Talking Volumes, according to mprnews.org.
MPR's website also states that Talking Volumes "spotlights books with feature articles, live broadcasts with the author, in-person readings and discussions, and more." It is a partnership of Minnesota Public Radio, the Start Tribune and The Loft Literary Center.
As the host of Talking Volumes, Miller interviews authors, but not just about their writing.
During the Working Journalist Seminar, Miller said that she likes guests on her show to reveal something about themselves that they otherwise wouldn't.
The seasoned radio host was invited to speak at the event to talk about her expertise in "the art of the interview."
During a time when Steve Marsh from Minneapolis St. Paul Magazine was interviewing Miller, she mentioned that she doesn't always receive praise from her listeners, but she does for asking tough questions during interviews.
"There really is no question you can't ask if you come in super prepared, you know your stuff and you have the intestinal fortitude to ask the question. You need some guts. You need some courage to ask tough questions," Miller said.
She also gave the audience a peek at tricks that she uses for interviewing.
Miller revealed that she only prepares 10 questions before an interview because it forces her to really listen to what her guest is saying. She also recommended that interviewers start by asking an unexpected question to set the tone of the interview.
Miller shared some of her best and worst moments of interviewing, including an infamous interview she did with former Minnesota Gov. Jesse Ventura. During the tense interview, Ventura walked away from Miller two different times.
Even as the keynote speaker, Miller continued to ask questions. She continually quizzed the audience on "classic interviews," asking people to guess who was in the interview, discussing techniques that were used, and describing "the chemistry of an interview."
Miller graduated from college with a degree in broadcast journalism and English literature and she worked in a few different markets across the country, including in the Twin Cities. However, it wasn't until she started at MPR that she found what she described as "the job that brought all the skills that I was good at together."
Before working at MPR, Miller worked at a radio station in Dallas and a TV and radio station in Tulsa before moving to the Twin Cities to work at Channel 5. Miller was fired from Channel 5 before taking a job at KARE 11, where she worked with the previous Working Journalist, Boyd Huppert, an alumnus of UWRF.
Sandy Ellis, chair of the UWRF journalism department, organized the event and estimated that between 150 and 175 people were in attendance.
Hannah Scheele, music major at UWRF, was required to attend the event for her journalism 101 course, but she quickly learned that she could apply Miller's advice beyond any assignment. Scheele said she is planning a study abroad trip in the fall that requires an interview-based research project.
Scheele approached Miller individually after the program to ask for some advice.
"Probably the most important little bit I took away from it is just how to prepare for interviewing people that I have no background knowledge on," Scheele said.