Review
Death Cab for Cutie returns with 'Kintsugi'
April 1, 2015
Death Cab for Cutie has been a mainstay in alternative music since taking the Seattle scene by storm in the late nineties, but it's not 1998 anymore, and the loss of longtime guitarist, backup vocalist and producer Chris Walla seems to have taken a toll on the once cannot miss band from Bellingham, Washington.
Death Cab for Cutie's latest album is titled "Kintsugi," which is the Japanese art of fixing broken pottery with lacquer dusted with powdered gold, silver or platinum. The album hit stores on March 31.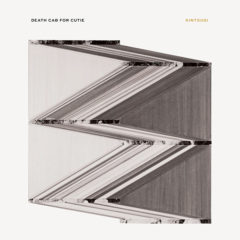 To be perfectly honest, "Kintsugi" sounds a little too much like 2011's "Codes and Keys," and is a far cry from 2003's "Transatlanticism," which is one of the greatest alternative rock albums since the turn of the century.
The first song on the album, titled "No Room In Frame," is arguably the best of the 11 tracks with Death Cab for Cutie-typical guitar riffs and a good mix of synthesizer and drumbeats. Lead singer Benjamin Gibbard, also known for his work with The Postal Service and his short-lived marriage to actress Zooey Deschanel, still has the same soothing vocals he had nearly 20 years ago. Gibbard's age shines through his writing: "I don't know where to begin. There's too many things that I can't remember. As I disappeared like a trend, in the hum of the five in the early morning."
"Black Sun," the album's first single, while catchy has an early 21st century rock sound. The track is less Death Cab for Cutie and more, dare I say, 12 Stones? "Little Wanderer" has a similar sound, and only four tracks into "Kintsugi" you can tell Death Cab for Cutie has definitely changed in its four-year absence.
Despite likely being Death Cab for Cutie's worst effort since 2001's "The Photo Album," this album still has some great moments and actually flows like a studio-recorded album should. There are three songs, back-t0-back-to-back in the middle of the album, titled "You've Haunted Me All My Life," "Hold No Guns," and "Everything's a Ceiling" that slow things down and puts the focus on Gibbard's silky vocals, which are among the best in the music business.
"Everything's a Ceiling" is certainly a bright spot on the album, with its groovy guitar and late 80s-sounding snythesizer. Gibbard's lyrics seemed aimed at a former loved one, Deschanel perhaps?
"So what am I supposed to do? I'm calling out to you, but you're miles away, it's true. Digging with someone new."
"Ingénue," the 10th track on the album, is a terrific play on a literary or cinematic figure who stops being kind, gentle and sweet, and starts searching for something more: "Framed like a cartoon, the borders clear and defined, the colors bold and bright. You'll want to be taken more seriously, but they just play a cue."
Critics and fans alike are going to cry out for tracks like "Summer Skin" and "Souls Meets Body," but one thing is for certain: Death Cab for Cutie doesn't replicate. Each album is significantly different while maintaining a similar sound and style. Yes, "Kintsugi" doesn't have a defining track that ranks among the band's best work to date, but it's proof that aging changes musicians too.
Gibbard is growing old and this album is tamer, slower and precise, but there's no doubt that Death Cab for Cutie will turn up the volume next time around.
Death Cab for Cutie made a trip to Omaha, Nebraska, last summer for the Maha Music Festival on August 16. The band played a superb, nearly two-hour set featuring such hits as "You're a Tourist," "Title and Registration," and "Grapevine Fires," and there is no doubt that the band can still rock.
"Kintsugi" may not be "Transatlanticism" or even 2008's "Narrow Stairs," but I expect this album to age beautifully, and in time it will sit firmly in the collection of Death Cab for Cutie albums that were deemed tremendously successful.
Jack Tuthill is an alumnus of UW-River Falls. He was editor of the <em>Student Voice</em> during the 2014-2015 academic year.