Community remembers UWRF student Dylan Denk
UW-River Falls lost a member of its student body in the early morning of Sunday, Feb. 22, as junior crop and soil science student Dylan Denk of Greenwood, Wisconsin, died in a snowmobile accident.
The accident was reported at 6:34 a.m., just north of the township of Warner, Wisconsin, approximately five miles north of Greenwood, according to the Clark County Sheriff's Department.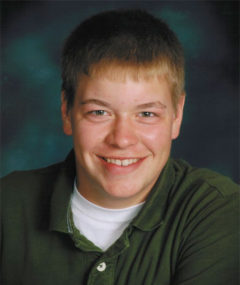 Denk's snowmobile crashed into a tree after the vehicle drove over a hill and spun out of control. Denk, age 22, was traveling alone and at a high speed, but was wearing a helmet, according to the Clark County Sheriff's Department. Denk was ejected from the snowmobile and pronounced dead at the scene.
Outside the classroom, Denk worked at Aves Taxidermy Studio located on northbound Highway 35 between River Falls and Hudson, for UWRF alumnus David Brummel, who founded the business in 1976. Brummel described Denk as "happy-go-lucky."
"He will be sorely missed," Brummel said. "Not a single person here could say anything but good things about him. He always did what he said he was going to do, and he followed through. He did things with a certain air, that I would call a gusto, and that's a tribute to him."
According to assistant professor of crop science Veronica Justen, Denk's advisor, he was slated to graduate in the spring of 2016.
"He grew up on a farm, and based on my interactions with him, I believe he probably wanted to be some sort of agronomist or work for a co-op," Justen said. "I know he cared about crop production. I think he wanted to be something like a sales agronomist or work in the agronomy industry."
According to Merriam-Webster, agronomy is "a science that deals with the methods used by farmers to raise crops and care for the soil."
Denk was the 10th snowmobile fatality in the state of Wisconsin this winter season, according to the Wisconsin Department of Natural Resources (DNR). Eleven fatalities have been reported in Wisconsin as of March 2. It's still unclear, pending a toxicology report, whether Denk's alcohol level was above the legal limit at the time of his death, according to the DNR. Ten of the 11 fatalities this winter involved speeding, and eight involved alcohol. Denk was Wisconsin safety certified, according to the DNR. Five of the 11 fatalities were not safety certified.
The DNR reported 181 incidents last winter, with a total of 23 fatalities. At this time in 2014, 18 fatalities were reported, so fatalities are statistically down this winter. One incident was reported last winter in Pierce County and six were reported in St. Croix County, with no deaths.
"I know that he really enjoyed hunting and snowmobiling," Justen said. "And he loved to work. He really talked a lot about how he had to work at the taxidermy shop."
Justen had taught Denk for three years, including a "plant breeding" course this semester. According to Justen, she will remember Denk's sense of humor most.
"He would say really funny things, but you had to get to know him at first to know he wasn't being serious about it," Justen said. "He kind of had a sarcastic sense of humor, and that sticks out to me, you know, I'll remember that sense of humor he had in class."
Denk was born on May 9, 1992, in Marshfield, Wisconsin. Denk was raised on a family farm, northeast of Greenwood, and graduated from Greenwood High School in 2010.
According to his obituary, Denk enjoyed playing football and baseball, and was active in 4H and FFA. Denk also enjoyed spending time on the family farm hunting, fishing, snowmobiling and four-wheeling.
Denk's family has asked that donations be given in his name for a memorial to be established at a later date. Condolences may be expressed on the Cuddie Funeral Homes website: www.cuddiefh.com.
"A lot of untimely things happen, but what we have to remember is the good things that we did do, and the good times we had," Brummel said.
According to an email sent to all UWRF students from communications and external relations Director Blake Fry on Friday, Feb. 27, the university reached out to the Denk family for support.
"If you would like to share your thoughts and condolences, you may leave a card or note for the Denk family with the office of Student Conduct & Community Standards, located in Hathorn Hall, and we will forward those messages to them," Fry said in the email.
Funeral services were held at 11 a.m. on Friday, Feb. 27, at St. Mary's Catholic Church in Greenwood. A burial followed in the St. Mary's Catholic Cemetery.
For grieving students, UWRF Student Health and Counseling Services, located in 211 Hagestad Hall, has staff readily available.
"Dylan was a work-in-progress," Brummel said, "As a work-in-progress, I was disappointed that he's not with us anymore because I saw him as being a community leader, maybe an agronomist or own a big farm and have a family, and maybe be the town chairman someday, because he's got that kind of knowledge and people respect him."