Review
Arcade Fire's new album is diverse, brave
October 31, 2013
Canadian Grammy award-winning indie rock band Arcade Fire released its highly anticipated fourth studio album, "Reflektor," on Tuesday.
It is beyond belief how different it is to the first three albums and takes some getting used to.
"The Suburbs," the group's third album, won best album at the 2011 Grammys, so expectations heading into this record have never been higher.
Arcade Fire's sound has gradually transformed from uncomplicated indie rock to experimental dream pop, seemingly in the blink of an eye.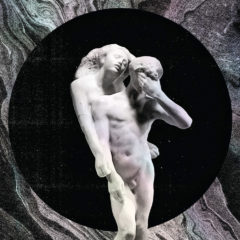 Critics have been raving about the band's new sound for months and Rolling Stone went as far as labeling Arcade Fire "the most important band of the last decade."
Lead singer Win Butler and his wife, backup vocalist Regine Chassagne, have aged 10 plus years since the birth of Arcade Fire, and "Reflektor" exhibits the band's alteration as musicians and individuals.
This album is unlike anything they have released before, which is bound to elate some and alienate others. "The Suburbs" was delectably captivating and thematic, while "Reflektor" is an investigation into another musical dimension.
Undoubtedly, this is a record that will be a topic of discussion for years to come.
"Reflektor" opens with two of the better tracks on the album: title track "Reflektor" and "We Exist."
"We Exist" is gorgeously futuristic and catchy. Obscure instruments lay the groundwork for the track, which is the case for much of the record. Heavy use of violins, piano, drums and synthesizers lead into the breathtaking breakdown guided by Butler's arresting vocals, "You're down on your knees, begging us please, praying that we don't exist. But we exist."
"Reflektor" is divided into two discs and dramatically spans over 75 minutes. The first disc does include "Reflektor" and "We Exist," but struggles to find a cohesive rhythm and is unreasonably experimental. This hurts to admit, but "Flashbulb Eyes" and "You Already Know" are the two weakest tracks they have ever created.
However, the second disc picks up some serious slack as it helps to redeem the album.
There is absolutely nothing awful about "Awful Sound (Oh Eurydice)," as this track should regain the attention that may have been lost with the first disc. Beautifully simple guitars, bass and drums will put a smile on the faces of Arcade Fire fans of old. Synthesizers and violins intensely lead into the song's mesmeric chorus, "I know, there's a way, we can leave today. Think it over."
The oddest track title on the record is "Porno." Interestingly enough, this song happens to be one of the best tracks on the album. LCD Soundsystem mastermind James Murphy, who produced the album, obviously had a heavy hand in the track's creation. Butler's high vocals and excellent lyrics build throughout, "You can cry I won't go. You can scream I won't go. Every man that know you, would've run with the word go."
The album exquisitely concludes with "Supersymmetry," the simplest, prettiest track on
"Reflektor." Butler and Chassagne's duet is splendid. Light piano, drums, violins and guitars complement the married couple's outstanding vocal abilities. The spellbinding breakdown features a multitude of violins, light drumbeats and an electronic keyboard.
"Reflektor" was heavily influenced by other musicians; that much is for certain. Elements of David Bowie, The Cure, LCD Soundsystem, Talking Heads, Radiohead, Vampire Weekend, MGMT and New Order are stamped all over the record. This may explain the band's new sound.
"Reflektor" leaves me aching for songs of the past, but the days of "Ready to Start," "No Cars Go" and "Wake Up" are long gone. This is a concept that Arcade Fire fans are going to have to accept.
Nonetheless, this is an album that will eventually grow on listeners, I promise. Take solace in the fact that "Reflektor" is ambitious, gorgeous, diverse, memorable and brave.
Jack Tuthill is an alumnus of UW-River Falls. He was editor of the <em>Student Voice</em> during the 2014-2015 academic year.