Opinion
UWRF graduate initiates new office of sustainability
September 19, 2013
Meet Bethany Gapinski: her ever-present smile and flaxen hair hint at a summer spent outdoors, working in the garden. This energetic young woman has worked at high speed alongside Kelly Cain of our campus's St. Croix Institute for Sustainable Community Development to debut the Office of Sustainability (OoS).
Gapinski graduated in May of 2013, with a degree in Crop and Soil Science, having pursued the Sustainable Agriculture option.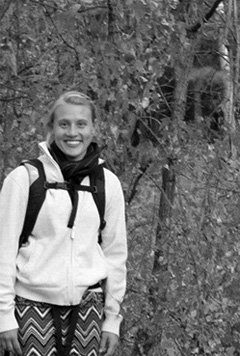 When not on campus, Gapinski can be found spending long days in the kitchen preserving apples and tomatoes. I can attest to her commitment to local food systems and self-sufficiency. After I met with her to discuss the debut of the OoS, she invited me to glean apples at Cain's homestead. In the orchard, Gapinski decided the long-pole fruit picker was not doing the job and scaled the tree, tossing ripe apples expertly into a canvas bag I held trustingly 12 feet below her.
This is why it's so exciting that Gapinski is here to foster collaboration with students, faculty and staff to increase awareness of sustainability initiatives and opportunities on campus.
UWRF has already been Gapinski's home for four years. Her legacy of going the distance includes co-founding the Student Alliance for Local and Sustainable Agriculture (SALSA) where she collaborated with the campus community to start the first UWRF student garden. As an Undergraduate Research Fellow for the St. Croix Institute for Sustainable Community Development (SCISCD) she collected data on greenhouse gas emissions as well as vital information for the campus Sustainability Tracking, Assessment & Rating System (STARS) report.
The OoS was born from SCISCD with the strong collaboration of the Sustainability Working Group and Sustainability Faculty Fellows.
The SCISCD is in its seventh year of activity. In the past, its industrious staff had to juggle campus engagement with a large amount of outreach and consulting within the local community, region and across the country as a means of building credibility, reputation, and revenue. Based on various sources of input, it was noted that campus awareness was one of the major challenges for sustainability initiatives and participation on campus.
Many students (if not most) and some faculty and staff are not aware that SCISCD is the central campus office for sustainability initiatives. The UWRF OoS arose in association with the SCISCD to enhance student, faculty and staff awareness and participation; further raise campus reputation for sustainability; and enhance integration of students, faculty, and staff in both on-campus and off-campus initiatives, especially in the city of River Falls.
When asked what her goals for the OoS's first year were, Gapinksi replied, "engage and support students while creating visibility on campus." She would like to get the OoS web site up and running as well as a mainstream social media venue to get information readily to students. Another objective is to structure a solid sustainability internship program to complement the Undergraduate Research Fellowship program that SCISCD directs. Without stretching herself thin over the debut year, she also hopes to help organize a film screening and further improve our campus' STARS score.
The OoS and SCISCD are incredibly grateful for the past and continued support of Chancellor Dean Van Galen, Mike Stifter, Elizabeth Frueh and all of their support staff for the strength of sustainability initiatives on campus.
In order to offer foster support for sustainability projects and a way for students to collaborate and air ideas, Gapinski is available by appointment. Please contact her at: bethany.gapinski@uwrf.edu or 715-425-3479 (Office) 111RDI Building.
Molly Breitmün is a non-traditional student majoring in conservation with a minor in GIS. Her interest in campus sustainability was fostered by becoming an undergraduate fellow for the St. Croix Institute for Sustainable Community Development as well as by her peers in the Student Alliance for Local and Sustainable Agriculture.