Opinion
Message in bottle thrown to the Atlantic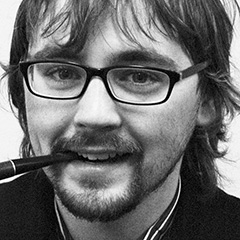 November 4, 2011
I was Clutter's guest, an old hiking pal from the Appalachian Trail, but she still asked me if I wanted to join her for a little concert at the College of Charleston. She is a short woman with a frog-like smile and red-dyed hair. I think she felt blue because she missed her New York friend who played a show the previous night and wanted to make up for it.
We still missed the show. People in the street said it was short lived, but electrifying. Sad faced, she took me for a tour of the communications museum in the college. The curator, a walking Wikipedia, gave us a guided tour starting first with an Edison cylinder player. He played an intact 1916 cylinder of a scratchy Hawaiian tune. My smile curled as the tune progressed, the needle scratched horizontally in a small chest of stained wood. I had remembered that I had seen cylinders like these in a mom-and-pop antique store in Prescott, Wis. The walls were lined up with record players from all years of the big-band era. They were waiting to be touched and prodded even though it is expressly condemned. A tall black movie camera made of what looks like cast iron should have fallen through the floor ages ago.
On the second floor, I perused books about struggling black folks during early Hollywood filmmaking, while Clutter spoke with the curator about the origination of the building. While I waited, I stared into a hologram of a girl that winks at you as you walk from one end of the illusion to the other. I put this girl on repeat until Clutter sidled back to me. This was my last night in Charleston and I loathe goodbyes. We drove under the full moon in her white GMC Sonoma named James, the hood gridded with electrical tape; we made for a bridge to commit a deed.
We parked near a 5-mile bridge where I carried a 1.75-liter Svedka vodka bottle with a message to launch into the Ashley River, that I hoped would float into the Atlantic. I was not about to write a biography in baseball stats: 5 foot 5 inches, male, 25, 3.5 grade point average, and a credit score of 750. The message was the tale of my summer from June up until my experience in Charleston. I carried the bottle in a hoodie of hers, because the liquor laws in Charleston are strict. "It's my duty to protect you," she said.
We loitered under the center supports of the bridge, while a couple sets of dimmed fog lamps in the bay did the same. We waited awhile shooting the shit, speaking in philosophies, and always keeping an eye out for the authorities. When the area was clear, I heaved the handle down below. It sounded like it busted open over the cement-like surface of the smooth water. Clutter said it sounded like that to us when we were up so high and that it probably floated on to the ocean. We walked away from the scene that could or couldn't have been.
Christopher Pagels is an alumnus of UW-River Falls.