Opinion
Dreary nights spent in Alaskan terminal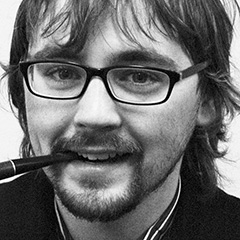 October 21, 2011
I have no photographs of the two nights I slept in Ted Stevens Anchorage International Airport. The chill of the air-conditioning brushed my exposed arms; the average temperature outside had been 55-degrees for the last three weeks. The sun had only shone five times in the three weeks. The connected steel benches were made of black leather with thin eggshell foam padding. Hardly enough room to lay flat on one's back, much less on your side. My bench was facing perpendicular to the "no-parking" ramp that hustled with people, mover buses, taxis, and Subarus. I fell asleep at 2 a.m. waiting for my checked backpack to come back from Phoenix, maybe Minneapolis; I forget which.
The midnight sun of Alaska awoke me out of a fitful slumber at 4:30 a.m. The U.S. Airways flight from Phoenix (via Minneapolis) should arrive at 11 p.m. that night; from there I would have enough time to catch a ride to Homer to visit my friend Smashley. The contents of my blue and gray hybrid backpack/camelbak held my mattress wallet, book of Icelandic sagas, black Sharpie marker, toothbrush, and a deck of cards. I tried to force myself back to sleep by pushing my head into the corner of the stiff bench, but there was only sleeplessness. I sat up with alfalfa bed hair and a sagging frown that reached down to the ground. My bench was in front of Delta. The Russians from the night before made a nursery of blankets and a wall of luggage protection as their sleeping fort in the corner.
The Upper One bar next to Jet Blue Airlines was not open, but Hudson News was. I spent 10 minutes looking at a bag of 4 oz. Gardetto's that was selling for $7. I finally grabbed it and walked up to the counter. A fast talking American of Indian origin was ringing up sales with finesse. He asked me how it was going, looking intently into my eyes, as if he meant it. "Well," I said, "flight delayed three times, bags sent to Phoenix, sleeping overnight, and waiting until 11 p.m. to get my courtesy bag." He held his hand out for me to wait. For the next hour, we talked in between sales about how I could sneak past security to access the greater variety of restaurants and Hudson News shops. Options: use my cancelled ticket and hope they do not ask any questions or buy a ticket and demand a refund after I had gotten my fill. I did neither of these. I would have to survive on Cinnabons all day.
The other day, my friend Michael stayed overnight in the Porto, Portugal Airport. His advice for spending the night, as a single or cheating man, is to do the following: "First thing to do when you walk into an airport is to sit next to the hottest girl you see. Next, break the ice by saying something like, 'comme ca, got to love those Ryan Air 6:30 in the morning flights.' If she does not understand English, speak a little French to her to show elegance and class. After this, find out where she is going and when. There is always something to talk about at an airport, because everyone has a lot to say before they begin or end their journey."
I did not do that either. Instead, I walked down to the tourist information desk and asked for some spare cardboard. The elderly woman handed me a white box and a pair of scissors. I wrote in big black capital letters with my black Sharpie H-O-M-E-R. Once things went according to plan, I would hitchhike on Highway 1. It makes up half of the highways in Alaska. The rest of the day, I shifted from reading the New Yorker and pretending to sleep on the black benches around the airport. I wanted to give the appearance of moving around.
It was 11 p.m. and many boxes of frozen fish crunched against the generic black bags with rollers on the conveyor belt circling around the luggage elevator. I waited until there were two unclaimed bags that were cycling by themselves until they ultimately shut down the belt. My bag got as far as Minneapolis. I am still in Alaska. I threw my cardboard sign away and texted Smashley. I bought a $140 ticket down to Homer. The plane held 19 people. The 40 minute flight was enough to edge above the clouds for my first sight of the sun in over a week.
When I landed on the Kenai Peninsula, I called Smashley and began walking down the right side of Main Street to meet her halfway. After 15 minutes, I saw her black hair swaying in the wind on the left side of the road. She waved to me. I waved back.
Christopher Pagels is an alumnus of UW-River Falls.