UW-River Falls English department hosts banned book reading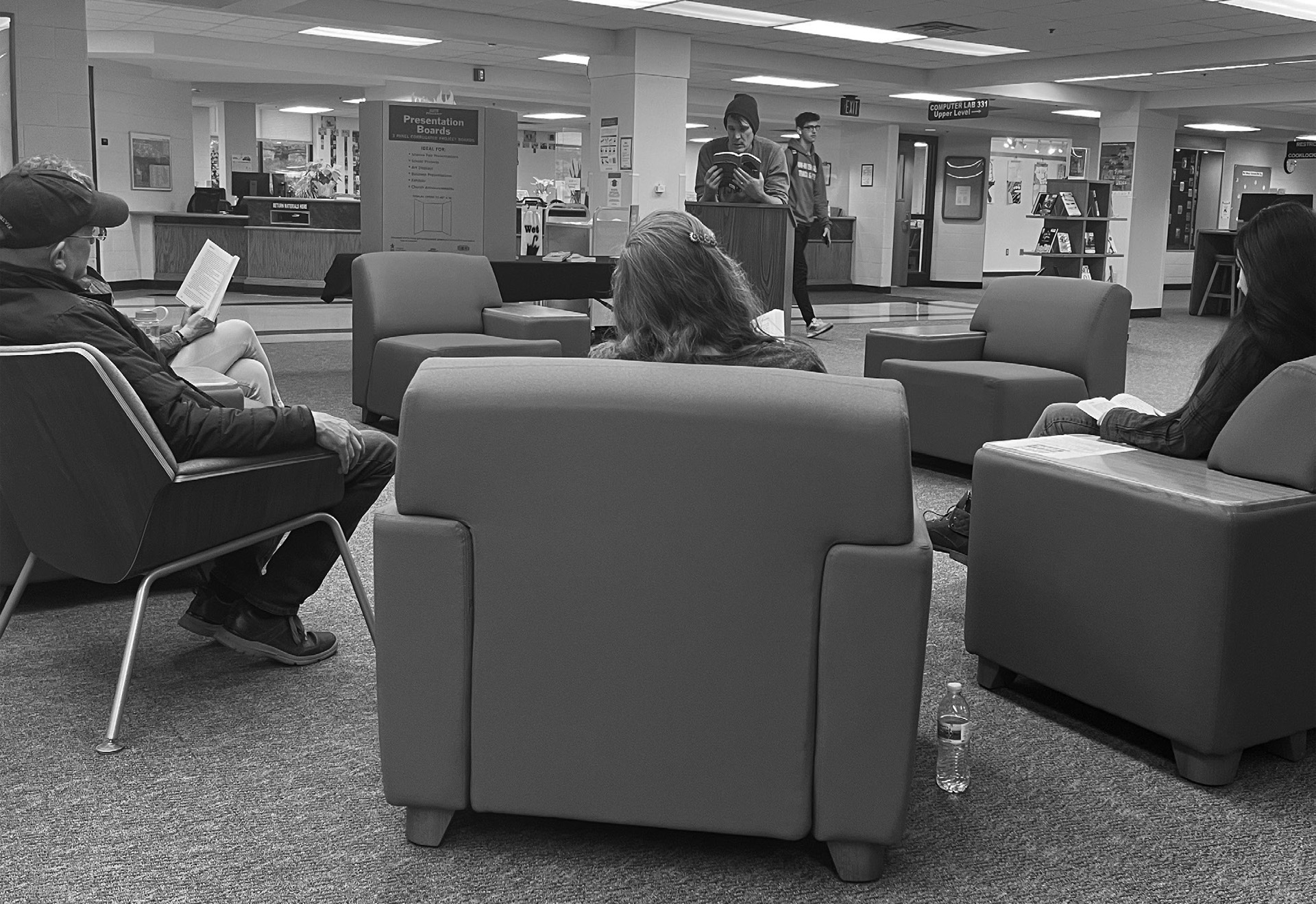 UW-River Falls students and staff gathered April 13 in the Chalmer Davee Library to collaboratively read Ray Bradbury's "Fahrenheit 451." Originally, the event was set to be outside, at the outdoor classroom near Kleinpell Fine Arts (KFA). Weather issues moved the reading indoors at the library near the circulation desk.
From 8 a.m. to 4:30 p.m., 18 volunteer students and staff took turns reading in 20-minute intervals. They finished the entire book one time through, and made it almost three-quarters in the second half of the day.  
English Department Chair Mialisa Moline thought this spring would be the perfect time to host a banned book reading.
"One, censorship is all over the news. Both the left and the right have been talking about and encouraging various kinds of censorship recently," said Moline.
Most recently, a school board in Tennessee banned the graphic novel "Maus" by Art Spigelman for inappropriate language and obscene imagery.  
Moline saw the banned book reading as a way to bring the community back together as pandemic restrictions continue to lift.
"This is a shared value in the English community. So, we are very interested in the topic of censorship, how broad the topic reaches, and how dangerous it is for all of us," said Moline.
Academic Department Associate Sally Bender also emphasized the importance of bringing awareness to banned books. 
"I think we need to be aware that books are being banned. It's not like something from the 1940s. It still continues today. I think we need to be aware of that, ask why, and maybe read the book and then decide for ourselves," said Bender.
Bender remembers her own experiences with a now controversial book series, "Junie B. Jones."  Bender's grandmother took a liking to the series. "I was shocked, but she was able to see the humor in it and draw the line," said Bender
"Junie B. Jones" and many other banned books are displayed on the second floor of KFA, just before the elevators. Student intern Taylor Kiel built the display as part of her internship and read at the banned book reading.
In her closing remarks, Moline said, "Censorship of thought, of word, of idea will not stand; nor limitations on the sharing and building of knowledge together. Not while teachers breathe. Not while students learn."
Both Bender and Moline hope to continue having a banned book reading every school year.