Spring has sprung: Lemon turmeric tea cake
"I don't want lemon bars, I want this lemon cake," said my roommate and dear friend, Maddie. 
She's right, because the first time I made this, I fell in love. I'll admit, I'm a fan of anything lemon. From lemon poppy seed muffins to lemon tarts, I love them all. So, when this recipe popped up on my page, I knew it was fate.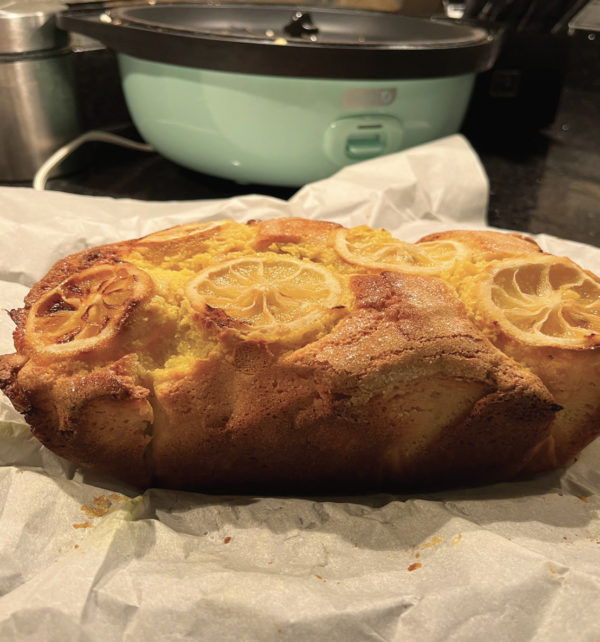 Lemons often go overlooked as you make your way down the grocery aisles. Their acidity makes them perfect for bringing out bright and fresh flavors. Lemon zest packs a flavorful punch as it contains lemon oil, which is where most of that tart, lemon flavor comes from. 
Also, lemons just remind me of spring, because of their bright and bold color. This lemon tea cake's vibrant yellow color is sure to put you in a happier mood. Shh, turmeric is the secret to its bright orange color. 
The recipe is from one of my favorite chefs, Allison Roman. Roman is a cook and an author on the New York Times's best-seller list. Her approach to cooking is flavorful yet approachable food done well. I am never left disappointed after making one of her dishes.
I'll link the full recipe below, but here are some of my tips and tricks.
You'll need to put in some elbow grease. Juicing lemons is no walk in the park. Roman's recipe calls for the zest and juice from one lemon, but I usually end up using one and a half. The remaining lemon half will be used for the garnish. If you are not a fan of the fresh lemon slices on top, you can ditch them.
The thin slices of lemon on top are mainly there for the aesthetic. Also, the sugar helps candy the lemon slices, giving them an extra crunch. Personally, I think they add an extra punch of lemon flavor. Some might think it's overkill, so you could still get that crunch with the sugar layer.
Prepare yourself for the fresh and bright aroma of lemon cake filling up your home. If you plan on taking it to a party, hide it. Your roommates might get to it first, it's that irresistible.
The New York Times has the recipe.