New businesses pop up in River Falls
In the span of four months, River Falls introduced a new grocery store, Aldi, and a new Culver's to town. Both businesses had residents of River Falls waiting as construction was happening over the last bit of 2018. Each new business is located on Main Street, and both have been very popular among the residents, including UW-River Falls students.
Culver's took the place of the restaurant Perkins on Main Street, and opened its doors earlier this year on Jan. 28. This also happened to be the day that many students returned from winter break. Construction and training for the new location took place weeks in advance of opening day. "Training started a couple months, to a couple weeks, to just one week depending on the employee," said Culver's employee Isaac Ryba.
Many students and residents were excited for the new location. Ryba said, "A lot of customers enjoy that they no longer have to travel all the way to Hudson now that this location is here in River Falls." He also added that, "The surrounding communities and businesses have been very accepting and welcoming toward us during these past first few weeks."
Business at the restaurant has been maintained and continues to flow steadily.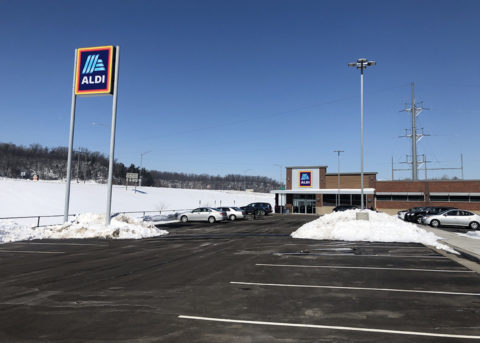 This is a new option for residents of River Falls and has also been favored by UWRF students since opening day. "During opening week, it was 9:30 one night, which isn't usually a busy time for a Culver's, and the entire dining room was filled with college students," Ryba said.
Aldi also opened  recently in River Falls and is a new option for groceries and snacks. The grand opening was held on Nov. 19, and is located near the Shopko on Main Street.
Aldi is a popular chain store of discount groceries, and there are several locations across the United States. Aldi has been very popular among college students since its grand opening in November, likely due to its competitive pricing. An Aldi staff member said that they were not able to comment on the grand opening to the Student Voice.