Review
Gaga and Cooper capture audiences in 'A Star is Born'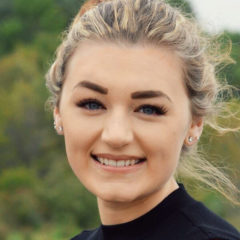 November 4, 2018
"A Star is Born" is a classic tale of romance and two worlds flying in opposite directions. This is the fourth remake, as the movie's story first came to the screen in 1937. The story still follows two lovers, in this adaptation, Bradley Cooper plays a self-destructive country-rock singer named Jackson Maine, while Lady Gaga plays the rising to fame pop singer Ally. This film explores love and hardships as the two paths merge.
The movie opens to a Jackson Maine (Copper) concert. Maine performs heavily under the influence, and the crowd screams for more. That night, while looking for yet another drink, Maine stumbles into a drag bar where he meets Ally Campana (Lady Gaga). Campana spikes his interest with her cartoon eyebrows and seductive performance of "La Vie en Rose."
After inviting her out for a drink, the two have an adventurous night out that leads them to develop feelings. The two are clearly inspired by each other. After some persuasion, Campana begins to take on the role of Maine's girlfriend, which she finds out is a tall order to fill. As the two begin touring together, Campana's voice shines more and more, leading her to a solo career as Maine slips further into the darkness of addiction.
Bradley Cooper, who also directed the movie, plays a great drunk. The audience can practically smell him through the screen as he stumbles around in several scenes. Cooper clearly portrays Maine's admiration and envy, as Campana gains stardom.
Cooper doesn't leave much mystery as to why Maine's addictions are present. Throughout the movie, Maine speaks about his issues with his father, drinking, and depression. I found this to be a bit overdone in the film, since Cooper included many specific scenes to show the darkness of Maine's past, and I felt some of it could've been left a mystery.
Lady Gaga fits the role of Campana perfectly since she herself went from a waitress to a superstar. Though Maine gives Campana the final nudge of courage to follow her dreams, Gaga ensures that the audience doesn't see Campana as someone who needed Maine to be successful.
Her talent is overwhelmingly strong, and she comes across very genuine and somewhat vulnerable. One might feel that this is due to the fact that Lady Gaga is such an icon for outrageous outfits and makeup, and Campana is plainer and allows the audience to see Gaga through Campana, in a new way.
The relationship between Maine and his brother, Bobby Maine, is very complex. In a way, Bobby Maine is his brothers caretaker, making sure he makes it to bed safe each night. In an early scene, the two get into a heated fight after Maine punches Bobby Maine in the face in a fit of rage. However, the hostility between the brothers gives way to an unexpected empathy, as shown in the later scene where Maine admits he admires Bobby Maine more than his father. Bobby Maine pulls away silently, fighting back tears.
This movie explores themes of female empowerment, as well as male arrogance. In an early scene, Campana explains to Maine that she couldn't be a star because of her nose. Later in the movie, the two joke about her nose as they gaze out to a billboard of Campana's face. The audience sees Campana push past obstacles in order to stay true to herself and her beliefs, even refusing to use backup dancers during her show and not dying her hair blonde.
Male arrogance and toxic masculinity come into play in a much different way. Maine is clearly disturbed by Campana's rise to fame, as his fan base seems to shrink. In one scene, Maine drunkenly smashes frosting on Campana's face, as a way to express his emotions. Throughout the movie it is clear he is envious of her career, though he only fully vocalizes this to her once, going about it in a cruel and drunken way.
Though the two are so clearly in love, the pressure and fame end up leading to havoc. This movie is for those who can handle an emotional rollercoaster. Though this story has been told many times, this version is certainly unique. Lady Gaga and Copper play a convincing couple, and Copper is sure to include multiple scenes where the two lock eyes. Through the romance and pain, the movie stays true to the message that becoming a star is not a path for the faint of heart.
Brooke Shepherd is assistant editor of the Student Voice.