Consumerism tackled as part of 'STUFF II: Consumption Dysfunction'
A new kind of production is being put on at UW-River Falls in the form of the upcoming original sketch comedy "STUFF II: Consumption Dysfunction."
Part scripted sketches and part improvisation, part comedy and part social commentary, "STUFF II: Consumption Dysfunction" aims to point out – and make fun of – the role consumerism plays in one's daily life. UWRF Professor of Stage and Screen Arts Ken Stofferahn is directing the production, along with guest artist Joshua Will.
"It's based on this idea of how much stuff we have versus how much stuff we really need," Stofferahn explained. "There's also some very poignant scenes that talk about how stuff, how technology, how consumerism affects our relationships and affects our environment."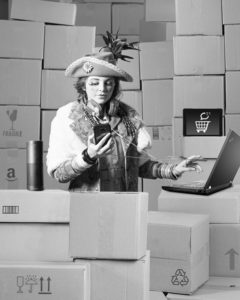 Nick Churchill, a UWRF junior stage and screen arts major, is appearing in the production. He said that the goal of the cast and directors is to inspire both laughter and a takeaway lesson for the audience.
"Sure, this is a fun show. You come out to have some laughs; it's sketch comedy," Churchill said. "But the thing is to kind of open people's eyes up about maybe their own 'consumption dysfunction,' so to say… Stuff can help you, but it can also hurt you."
"STUFF II: Consumption Dysfunction" holds a unique piece of history behind it. Stofferahn said that, 17 years ago, he and Will worked on a production at UWRF that also talked about consumerism, hence the "II" in the new production's title.
"It was the first time that University Theatre, at least in my career and my knowledge, ever tried something like this, to write a piece on an idea," Stofferahn said.
The original production was different in nature, but Stofferahn said that the decision to revisit the topic was because it exposes students to the unique process of tying writing, improv and performing together.
The process has been ongoing for the past year, originating with Stofferahn and Will exploring different topics and researching the history of consumerism. Students were then cast and given some reading material for J-term. After a long process of meeting and writing, rehearsal and production is wrapping up as "STUFF II: Consumption Dysfunction" gets fine-tuned for opening night.
Stofferahn said that what makes the production unique is that it is original, not based on a script written by a playwright. Most of the sketches were written by UWRF students, others by Stofferahn and Will.
Churchill is one of the students who took part in writing some of the sketches, two or three himself and a few more in collaboration with other students. He said that the process of writing involved activities like improv games and discussions, as well as a unique aspect.
"We would have an assignment every night after rehearsal," Churchill said, "and that would be something they would tell us to go do, whether it be write a sketch or just generate ideas that we could use and just pitch later."
Churchill said that this collaborative method of production was something new for him, because he wasn't just memorizing lines.
"I really felt like I was a part in really bringing the show to life and creating a piece of art," Churchill said. "And just having a really good group of people behind this who share that same insight and same passion as you do really helps that process come along."
UWRF students appearing in the production include Churchill, Thomas Heid, Jessica Strabel, Jana Knudsen, Jack Groskreutz, Gina Strzyzewski, Grant Morrison, Tiffany Schwichtenberg, Emma Johnson, Nate Brown, Corey Fern and Mya Ennis.
Performance dates for the production are set for April 20-22 and 27-29. All shows will start at 7:30 p.m. in the Blanche Davis Theater in Kleinpell Fine Arts.
Ticket prices are $10 for adults, $5 for UWRF students (with student ID) and those under the age of 18 and $8 for people aged 60 and up. Tickets can be purchased at the box office in KFA, at 715-425-3114 or at marketplace.uwrf.edu.