Christopher Morgan elected Student Senate president
UW-River Falls said goodbye to its current Student Senate president of the past year, Anthony Sumnicht, and welcomed Christopher Morgan into the position on Tuesday, April 21.
Morgan is a junior at UWRF studying economics and political science. He will serve as president for the academic year of 2015-2016 and is set to graduate in the fall of 2016 after having come to UWRF in the spring two years ago.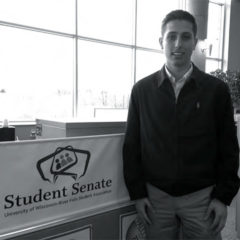 Although his family currently lives in Forest Lake, Minnesota, Morgan grew up in Texas. He and his family moved to Minnesota during his junior year of high school when his father got a job promotion. After he graduates, Morgan said he sees himself being a business executive someday and plans to live wherever his job takes him.
"It'd always be nice to start your own business and be your own boss but right now I'm more focused on breaking into a corporation or a company," Morgan said.
Having served on the Executive Board of the External Relations committee for two years and having studied political science and economics, Morgan said he feels as though he is qualified for his new title as president and is really excited--albeit, slightly scared--to take on the role.
Since he started attending UWRF, Morgan has been very involved on campus. He was part of Hall Council for the Ames Suites and worked for the Dining Services Advisory Committee (which no longer exists but has been replaced by a similar committee). He then became part of Senate, where he served on multiple committees and eventually became a member of the Executive Board during his sophomore year.
"As I progressed throughout this year I've basically made a lot of contacts throughout the school, networked well with the senators, basically got the understanding of what it takes to lead Senate," Morgan said.
Morgan didn't have to worry about the number of votes he would receive during the election for Senate on April 15-17 because he ran unopposed. Instead of concerning himself with campaigning, Morgan said he focused on planning new policies and changing the way students view the Senate as a whole.
"A lot of people don't know who we are and those who do are intimidated by us and so I'm looking to shift that by basically getting the senators to attend events held by student organizations, participate in those organizations," Morgan said.
Another issue Morgan said he wants to work on is increasing campus pride.
"I think increasing campus pride is another issue we need to hit, especially with declining enrollment numbers," Morgan said. "Retention numbers, as they are, I think showing school pride and really pushing that agenda is going to help us out overall as a school."
Morgan also said he wants Senate members to listen to what students have to say and make changes based on what the students want.
Moving in that direction, Senate recently enacted a new law stating that the Senate president is required to live on campus during their term. At this time, no decision has been made as to whether or not the Senate president will be provided subsidized housing, according to Morgan. The president will, however, receive $300 a month (raised from $275 a month as part of the new law) for the full-time position.
"Just the amount of work that the president is going to be doing and has done in years past, being able to not have to worry about 'how am I going to pay for my housing?' is a huge, huge thing for the president because it's a lot of work," Morgan said.
Morgan said he would like students to know that Senate is there for them and he encourages everyone to talk to the senate members about any problems that arise next year in order to best serve the students.