Review
'The Imitation Game' is an above-average war biopic
February 18, 2015
"The Imitation Game" is not a hard movie to crack open, and that appears to be to its benefit and to its detriment.
The story starts in 1939, and Alan Turing (Benedict Cumberbatch), a mathematical prodigy, is chosen by the British Crown to help its fight in World War II against the Nazis.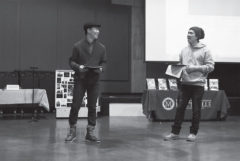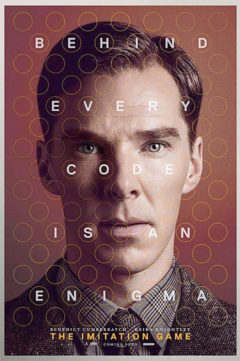 The way he could have helped was cracking the nearly impossible codes the Nazis utilized using what was called an "enigma machine." His story is told here in this film, one that I wasn't particularly excited about, since biopics are something I usually don't go to see for pleasure. Surprisingly though, something about the film caught my undying attention throughout.
It should be said that the biggest aspect that carries this film is Cumberbatch as Turing. Turing is an idiosyncratic man with neurotic tendencies and a dry wit, and Cumberbatch makes him quite the fascinating figure. From the moment he is brought in on this government project to the dilemmas he is faced with his personality and humanity is all put on show by Cumberbatch's acting abilities. If I am to be honest though, some of the younger audience members and their laughs gave an implication that they were there out of love of his other roles ("Sherlock" anyone?).
Despite implied viewer reasons he carries a lot of the film, as do the other actors in this film. The cinematography though leaves nothing much to consider; it's shot well and there's not much more that can be said about that. Same thing goes for the music, which was scored by eight-time Oscar nominee Alexandre Desplat. Aside from a few musical cues that were clever, every sound is placed right where it should be and carries the emotions of scenes correctly.
If anything, the story is the best thing to see this film for. It delves into the personal life of this relatively unknown person who saved millions of people with the research he did, and who also died for horrid reasons that can be disputed and discussed today.
Turing becomes an interesting character throughout the whole film as he struggles with the death of a close friend from his childhood that haunts his memories and follows in the shadows of his actions. Combined with the acting, it's actually what saves this film and makes it an interesting biopic.
However, I can't quite say that this is a film that will stick long in my memory. While I can praise a lot of what the film does not much of it feels very different from what I have seen before. Biopics like this one seem to take the stage each year and it can be hard for a lot of them to really stand out. Often times it just comes down to the base elements like cinematography and acting that makes them distinguishable, but often times they don't do much different.
Sad to say but "The Imitation Game" is a good movie but not an excellent one; a good film but not anything new. While it holds up relatively well and will probably be seen some time after by some people, it does not seem to progress much in the biopic genre. Perhaps we'll see it differently in the future, but for now, it looks like something respectable enough to the played in high school math classes when the teacher needs to catch up on correcting assignments.
Editor's note: "The Imitation Game" was nominated for eight Oscars.
Ryan Funes is a lover of all things movie, TV, video games and stories and wants to become a television writer someday. In his spare time he enjoys hanging with friends, tapping into his imagination, and watching cartoons of all kinds.