UWRF breaks campus blood donor record
The UW-River Falls Blood Drive had the highest number of donations ever seen at UWRF between Oct. 21-23, according to Blood Drive coordinator Taylor Wittmus.
Every fall and spring semester, UWRF Interfraternity and Panhellenic Councils partner with the American Red Cross to host the Blood Drive. This fall, volunteers collected 370 units of blood from 370 donors and helped 1,110 patients, according donor recruitment representative Denise Emstad.
This Blood Drive had 44 more donors than in October of 2013, which could be because it was held in the University Center Falcon's Nest for the first time this year.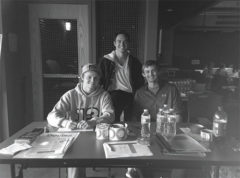 In the past the Blood Drive was held upstairs in the University Center Ballroom. In an email interview, Wittmus said the location was changed this year because of the safety concerns of donors going up and down the stairs after donating, and also because the Falcon's Nest is a more centralized location and is a higher-traffic area, making it more visible.
The hope was that the new location would increase the number of donors, which it certainly did.
Despite the smaller location, the event ran smoothly. Volunteers from Theta Chi and Phi Mu helped get students checked in and ready to donate. Other volunteers helped run the canteen where students could get food and drinks after donating to keep them healthy.
Aimee Knutson, a member of Phi Mu, volunteered her time by working a table at the entrance of the blood drive with other Phi Mu members. They welcomed people to the event and pointed them in the right direction to get started.
"We're just here to help facilitate people in the initiation of the process," Knutson said.
To ensure the safety of blood donation for both donors and recipients, all volunteer blood donors are evaluated to determine their eligibility to give blood. The final determination is made on the day of the donation at the blood drive.
If someone is deferred from donating blood in the past for any reason, it is still possible to donate blood in the future, according to the American Red Cross website. Just about anyone can donate blood as long as they are feeling well on the day they donate and pass the medical history check that everyone goes through before donating, according to Emstad.
The donors all seemed to understand that there is a real need for blood donations and they were there to do their part and save a life.
"Each and every day, patients throughout the River Falls area and throughout the country rely on volunteer blood donors when receiving healthcare. Cancer patients, accident victims, people undergoing surgery and people with some chronic illness may all need blood," Emstad said in an email interview.
Ann Lawton, an associate lecturer at UWRF, said she thinks there is a huge need for people to donate blood and everyone should do it if they are able to.
"I feel like it's almost like voting; if you're able to it's your one citizen duty to donate blood if possible," Lawton said.
Sara Joslin, a student at UWRF, said it doesn't take long to get through the process of donating blood, as it only takes 30-60 minutes, according to the UWRF website.
"It's a pretty quick and painless way to save a life," Joslin said.
Emstad expressed her gratitude for all the donators this year and in past years.
"Those who donated blood at the recent Campus blood drives have made a significant impact on the lives of patients, and for that, the American Red Cross thanks you profoundly," Emstad said.
Wittmus said he hopes to have even more donations in the future and that there is always a need for people to donate.
Look for the next UWRF Blood Drive this spring semester between Feb. 24-26, 2015, from 12-6 p.m. in the Falcon's Nest. Anyone can register online by going to www.redcrossblood.org and finding the UWRF Blood Drive by entering in the River Falls ZIP code (54022).
Walk-ins are also welcome on the days of the event. Call the American Red Cross at 1-800-733-2767 for more information.