Students bike through River Falls trails
There are definitely no mountains around River Falls, but that doesn't mean that mountain biking isn't possible. In fact, students have the possibility to break out mountain bikes every Monday.
Falcon Outdoor Adventures, formerly known as Kinni Outdoor Adventures, puts on "Mountain Bike Mondays." Behind Shopko there are trails called Whitetail Ridge and a group meets to ride on these trails every Monday at 5 p.m.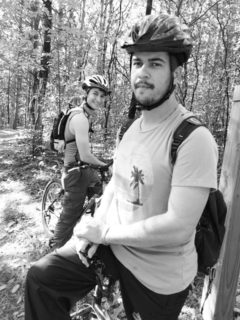 Mountain biking and road biking have some differences. Not only in the terrain the bikes are taken on, but in the equipment used as well.
"The bikes are a little different. You got fat tires and you got suspension [on mountain bikes]. On road bikes, you got skinny tires and usually a rigid frame," said Joel Sehloff, Falcon Outdoor Adventures student coordinator. "Also, you have trees to deal with when you're mountain biking...and rocks and roots; lots of things."
The trails at Whitetail Ridge are singletrack trails. The trails are about two-feet wide and made purely of dirt and the obstacles that Sehloff mentioned. The paths are there, but the obstacles are kept.
Sehloff has been riding mountain bikes for around three years and is a ride leader for Mountain Bike Mondays. He has been a ride leader since the program started last school year.
Sehloff enjoys mountain biking for the challenges it presents and the joy it brings him.
"It's a little more technical, a little more fun," Sehloff said. "With road bike you are worrying about cars, with a mountain bike you are worrying about trees, so it's a little more fun."
A group of students had some mountain biking fun a little further away this past weekend. On Saturday, Oct. 11, Falcon Outdoor Adventures ventured out to Lebanon Hills in Eagan, Minnesota. Lebanon Hills has over 12 miles of one-way, single-track trail, like the trails found in River Falls.
"It was a perfectly sunny fall day for a few hours riding and enjoying a picnic lunch," said Assistant Director of Recreation Tiffany Gaulke. "Participants had fun exploring new nearby trails and venturing off campus for the day."
If your mountain bike or your road bike needs a tune up, Sehloff and the Bike Shop can help get it back in riding condition.
The Bike Shop can be found in the Knowles Center and is open from 6-8 p.m. on Tuesdays and Thursdays. The Bike Shop, like Mountain Bike Mondays, was started with the help of Sehloff last fall.
"We are a student oriented bike shop. We are here for any bikes that you might have left on campus, might be a little rusty, might be a little beat up," Sehloff said. "We have cheaper prices for students than most of the shops around. You can bring it in, get it fixed up, pretty much anything you need. We are here for the students."
A basic tune up is only $25 for students and $40 for faculty and staff. An advanced tune up is $40 for students and $55 for faculty and staff. Specific details on the tune ups can be found by going to www.uwrf.edu and searching "bike shop."
Sehloff said he and his mechanics can fix virtually anything that is on the bike. Anything short of having to order a new part, the Bike Shop can more than likely handle it.
The quantity of bikes going through the Bike Shop varies throughout the year. Sehloff said as the weather gets colder, fewer bikes come in since biking becomes more difficult throughout the winter.
No matter the weather, UWRF biking enthusiasts have many opportunities to get in high gear.