Intramural spring season threatened by weather
With 33 intramural softball teams and 14 ultimate Frisbee teams signed up and ready to play this spring, there are high hopes that these teams will be able to compete against each other in a full season of nice weather.
Last year's spring intramural season was cancelled due to snow and cold weather all the way into early May. Mother Nature has been posing a threat for sports recently, and the recreation department is hoping that last year's cancelled season and this year's deceitful weather will not cause any issues for the spring sports season that is already underway.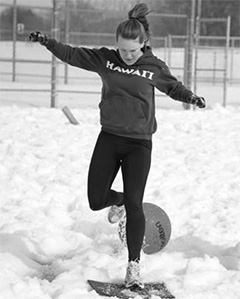 Skyler Harmon, the student recreation manager, says the only change they have made to spring intramurals so far is pushing the start date back from Monday, April 8 to April 10.
"We think the ground will warm up enough by the end of the week where it might be a little chilly and wet, but will still be playable," Harmon said. "By the end of the season and playoffs, we expect much better weather."
UW-River Falls has offered intramural sports to students for over 60 years and during both fall and spring semesters. They have sports such as flag football, indoor volleyball, and women's broomball as their main leagues during fall semester, and softball, ultimate Frisbee, men's broomball and five on five person basketball during spring semester.
Al Trenary, a senior at UWRF, has been playing intramurals on campus for the past four years and is hoping for good weather for his softball season.
"The weather really effects the spring season of intramurals because the snow always stays later than expected," Trenary said. "Even when the snow melts, the grounds are completely soaked. I just hope it stays warm enough to keep the fields dry and is nice enough outside to enjoy playing."
Even with the perplexing changes of weather when it comes to the winter and early spring months in Wisconsin, students are eager to take a break from the everyday stressors of classes, homework and tests and get outside and play.
"Intramurals is a great stress reliever and provides a break from a lot of the things that can happen in college life," Harmon said. "It's also an option for students to exercise and stay healthy in a fun environment. One of the best parts of the program is that between the competitive and recreational leagues, it provides an opportunity to compete with others, or just play for the sake of it without a lot of pressure and expectations."
Even with overall drops in numbers when it comes to campus wide enrollment, the recreation department has seen a pretty consistent amount of enrollment in their leagues, a minimum of 30 percent each season. "It's nice to be able to go to a university like UWRF that offers a wide variety of intramural sports to everyone," Trenary said. "I think all of the players are looking forward to a fun and successful season and hopefully some nice weather to."