Football team anticipates 2014 season
Six football transfers are now attending UW-River Falls this spring, with plans of joining the team which returns four All-WIAC players. The Falcons will only be losing seven seniors next fall.
The team is looking to improve this offseason after going 0-10 in the 2013 season.
"It has been an incredible off-season to this point. I am so proud of our guys for the continued buy-in to what we are trying to do here," said head football coach Matt Walker.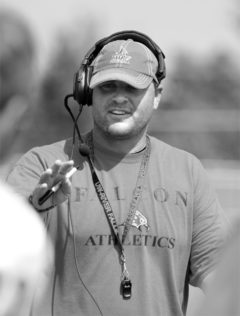 The transfers joining the team are Stuart Burns from the University of St. Thomas, Michael Diggins from the University of St. Johns, Otis Gaye from the University of Dubuque, Josh Olayiwola from Luther College, Spencer Urban from Bemidji State College and Andre Mc- Donald from the University of Minnesota.
Burns is a linebacker who played one season at St. Thomas. He graduated from Hudson High School.
Diggins played one season at St. Johns University as a running back, where he had five rushes for 20 yards. He graduated from Centennial High School and played in the Minnesota All-Star game in high school.
Gaye plays defensive back and is from Robbinsdale Armstrong High School. Olayiwola who is also a defensive back, is from Columbia Heights High School. Urban will be a sophomore next season. He plays quarterback and started three seasons at Superior high school where he won all conference honors his junior and senior seasons.
McDonald played wide receiver at Hopkins High School and was a four star recruit coming out of high school. He played eight games for Minnesota and recorded 10 receptions for 121 yards.
"All of these spring transfers can play at a high level and we cannot wait for spring ball to begin," Walker said.
While UWRF is still looking for success on the field they have had a lot of success and improvement off the field under Walker.
"We are very proud of the strides we have made academically. My first semester here we only had 16 players over a 3.0 and our team GPA was around a 2.3. This past semester we had 43 guys over a 3.0, 17 over a 3.75, and four with a 4.0 while our team GPA is up over a 2.8," Walker said.
The football team has also been a part of many off the field service projects the past couple of years. The team has taken part in the local Relay for Life event. They also helped the athletic department raise over $4,000 for Special Olympics last year. Most recently they had every player on the team walk a mile in high heels for a domestic abuse awareness campaign. This season the football team also teamed up with the soccer and volleyball teams to raise over $2,000 for the Coaches vs. Cancer events held this past fall. Stories on all these events can be found on uwrfsports.com under the archived stories link.
"We are all frustrated with what happened last year and we all knew that it was going to be a long frustrating offseason of having to answer to the outside world that only looks at our record and does not see all the accomplishments and strides we have made," Walker said.