Outdoor art installation showcases student talent
The UW-River Falls art department held its 22nd annual outdoor art installation project this past week which showcased both faculty and student creations.
Many different forms of art such as fibers glass, wood, paper, clay and metal were showcased around campus. It is important to know that many of these forms of art are very experimental because installations are a whole different form of medium. More than half of the students participating in the installation event have never done any art project like this before.
Morgan Clifford, professor of arts (fibers), came up with the idea of the art installations during her second year teaching at UWRF 22 years ago. She got the idea from one of her professors while in graduate school at the Cranbrook Academy of Art in Michigan.
"The point is to remind everyone how beautiful this campus is, especially now," Clifford said.
There are over 200 people participating in this year's event, with some doing more than one piece of art. Some projects are done as a class; some are individually created for a class.
There are also people outside the classes participating in the art installations who apply to have their art work displayed on campus. Those individuals must describe their art in the application and have an art professor sign off on their form for safety reasons and so the art adheres to the rules set by the department and campus.
While most of the art stays near the Kleinpell Fine Arts building, there are some students who venture off to Hathorn Hall or the Ag Science building. Clifford was not aware of any other University of Wisconsin schools that put out art installations.
Planning for a guest speaker starts almost a year in advance, in order to get in touch with the artist and make arrangements for them to come to UWRF during the time the art is displayed on campus. The guest artist this year is John Hock, artistic director and CEO of Franconia Sculpture Park in Minnesota.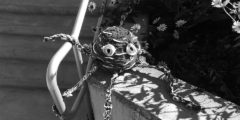 He will lead an informal walkabout critique with students and guests on Wednesday afternoon. The walkabout gave him the opportunity to critique and question the artists' work and meaning behind it. It also gave the artists a chance to ask questions about how to improve their artwork.
Kaylee Spencer, assistant professor of art (art history), said every year the department tries to find someone in the art community that has different perspectives. The speaker rotates each year, and the department always tries to find somebody who has the foundation and experience with outdoor sculpture and installation.
"My favorite part is seeing campus's reaction, people don't usually have the opportunity to see what happens in art classes or make it to the galleries so bringing it outside to the public is really fun to see others respond," Spencer said.
"I don't necessarily love all of the art but if the ingenuity of them makes you smile, it's done what it needs to do. The smallest installations are the most powerful," said Clifford.