Professor regains vision after three-day blind spell, questions remain about eyesight
The spring often brings new beginnings, and for Imtiaz Moosa, a UW-River Falls professor of philosophy, the season has brought a second chance to see the world around him.
Moosa, who has been living with the degenerative eye disease Retinitis Pigmentosa for 25 years, awoke the night of March 15 in absolute darkness; his vision had completely failed.
"It was a night of terrors - absolutely terrifying," he said.
After dialing 911, Moosa was taken to the Emergency Room of Regions Hospital in St. Paul, where he was directed to see an ophthalmologist. The specialist told him the blindness was permanent.
Yet three days later, Moosa's vision began to improve, and he now has about 75 percent of his eyesight back.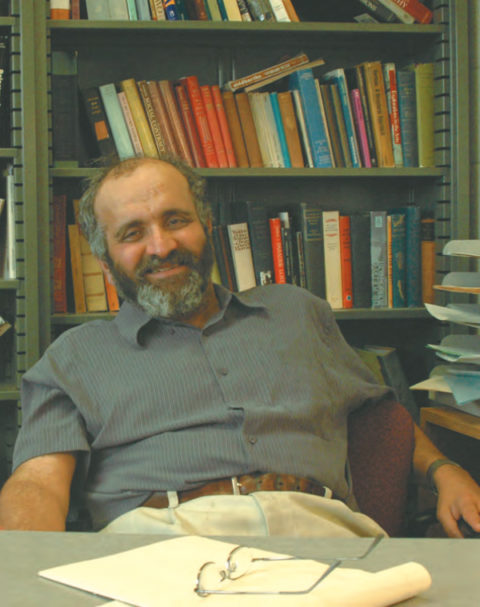 "Instead of being exhilarated, I'm mad at the doctor," he said. "He made me accept something that was not true."
Moosa said he feels like he is in a complete state of turmoil, unsure about what the future will bring.
"So now I'm confused," he said. "I don't know if I should put trust in my eyes or not."
Jim Pratt, a professor in the speech communication and theatre arts department, traveled to the Twin Cities March 16 to support his colleague, and was with him when the doctor broke the news that the blindness was irreversible.
"Part of the reality with his disease is that he knew it was not getting better," Pratt said. "But it's still a surprise to lose sight in a single blow in the middle of the night."
Moosa said it is unusual for a Retinitis Pigmentosa patient to lose so much vision in such a spectacular fashion. While he believes the recent episode was misdiagnosed, he said he will train for possible blindness in the future by learning Braille and acquiring equipment for the visually
impaired.
"The greatest adaptation is the psychological acceptance of who you are," Moosa said, adding that he loves the outdoors, and was forced to temporarily face the reality that he would no longer be able to take annual solo canoe trips. "I had to kill certain parts of my personality."
One aspect of life Moosa was not willing to give up was his career.
"The students are going to be well-served whether or not I am blind," he said. "My profession deals with ideas that are perennial... this profession is ideally suited for a blind person."
While Moosa now has a difficult time reading, he developed a solution by having students read his e-mails and exam papers when needed. Faculty and staff at UW-RF have also been helpful, offering assistance in any way possible.
"I want to express my appreciation to the dean [Terry Brown], and Jim Pratt," he said. "They were there supporting me in my time of great need."
Outside of work, Moosa said he wants to make the best of the second chance he has been given.
"When such events happen, then you ask yourself, what do you want to live for, and what is important to you?" he said. "You come to appreciate the majesty of the sense of sight."
While Moosa said he is hopeful that his vision will stay strong for the next 10 years, he doesn't plan to waste any time in the dark.
"I want to spend more time walking and hearing music — it gives me a lot of comfort," he said. "I want to look at a lot of great works of art ... do meaningful readings, and concentrate on things that are more significant and personally important."
Although it has only been a few weeks since Moosa lost his vision, the three days he spent living in darkness helped him come to terms with the realities of life.
"Sight is a lovely sense; people don't realize that," he said. "I want to carry with me the memory of all the beauty in the world."