Agriculture science professors describe their hobbies
This month's note-worthy staff members are Veronica Justen and Yoana Newman.
As an associate professor in crop science, Veronica Justen's primary role at UW-River Falls is to teach classes in grain crop production, as well as genetics and crop breeding.
"I like this idea of how we can be outside and working in nature, but also how we understand the science behind how plants grow naturally. A lot of things I teach right now is how we as humans manipulate plants," Justen said of her career.
It's not surprising, then, that Justen feels her hobbies outside of school all involve the outdoors in one way or another. "When I was a child, I always enjoyed playing outside. One aspect that's important for playing outside is being able to have an imagination, and being able to build things – build structures and toys out of the things you find around you, like branches or twigs," Justen elaborated. "You know, as a child, one of the things I definitely did was build gardens. I had several little gardens. That's probably what led me to what I do today."
Justen would highly recommend starting a family garden. "One of the things I do here at the university is I work with K-12 school districts and try to help them think about getting garden curriculum to their schools."
Justen listed numerous benefits of growing a family garden. Not only does it increase a child's awareness of their environment, but they're also more caring towards it. "When children are involved with gardening," Justen explained. "They're more likely to try foods that they wouldn't normally try. If you offer a child a tomato, maybe they'll eat that tomato, but if they see the tomato growing, and they pick the tomato themselves, they're much more likely to eat it and enjoy it. Seeing where this object comes from is very meaningful to them. Ultimately, they may also  make more healthy food choices."
"As an outdoor activity," Justen continued. "It's a great way to get physical and a great way to teach children about the cycle of life and where their food comes from."
This concept of "knowing where food originates" is very important to Justen. Her family has a goat farm, where they cultivate meat for her family. "[The meat goats] are a special breed of goat that is meant for butchering and producing meat products." Justen said.
Justen described goat meat as more flavorful than beef. She compares the taste of goat meat to lamb, and those who like venison or other game mean might not mind the stronger taste of goat meat.
The goats her family raises are low maintenance, and her children often help by feeding the herd. "It's been really important to me to try and get across to my children that [the goats] have been breed to be used for meat. The lesson is that if you consume meat, that meat comes from somewhere, and you have to be aware of that."
Justen and her family also raise chickens. "Similar to goats, chickens just require a daily check on whether they require water or not and you can give them a small amount of feed. For chickens, we primarily have to make sure they have enough grain," she continued. "One building projects I did this summer was make what's called a chicken tractor. It's like a mobile cage that allows you to have the chickens protected, but it's mobile, so they have the ability to keep moving to different parts of the ground. That allows them to utilize their behavior, which is to scratch at new ground and pick new things, but also they provide manure."
Justen has built numerous structures, both functional and decorative. One such creation is a trellis – a structure made to display climbing plants, such as vines or shrubs – a decorative barn quilt, and outdoor play structures for her son and daughter. Justen prefers hands-on hobbies and feels these skills have helped her both inside and outside of her career.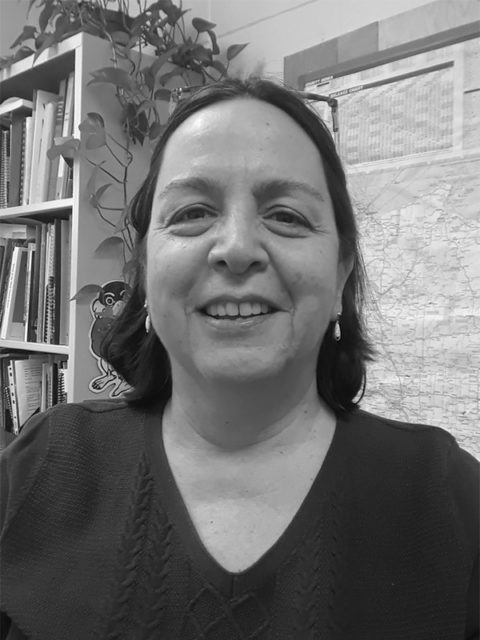 Also found in the Plant and Earth Science department is Yoana Newman, assistant professor, and forage specialist. Forage crops are plants eaten by grazing livestock. She's been employed at UW-River Falls for nearly five years, but also works partially for UW Extension. She works as a Forage Extension Specialist, interacting with county agents to serve the needs of forage crop producers.
"What do I do in my free time?" Newman pondered. "Well, I have two new grandbabies. Sophia and Isabel. They're brand new," Newman said fondly. "Because of that, I kind of started – well, I wouldn't say that I knit [professionally]… but I started to knit maybe a couple of months ago. I'm just learning right now."
Newman has knitted only one cap so far, purple and white-striped with a small pattern of flowers and decorated with a pom-pom. She's started working on the second one, but it's a long process. For those starting to knit, Newman suggests; "Practice, practice, practice! I would say, for me, so far – even though I've done one hat, I'm still learning. I'm on the very beginning stages.  It's a learning process. But it's very relaxing, and when you see the product – especially on the baby's head – it's nice."
Family is incredibly important to Newman. Her older granddaughter, Sophia, lives in Florida. Isabel, 7 months, lives in East Lansing, Michigan. Because of the distance, Newman spends her lunch periods on Facetime. "I try to communicate weekly, if not almost daily."
Through Facetime, Newman takes photos of the children as they're spoonfed their lunches. She has a shelf of toys – cows and mice – in her office to amuse the children with. "The funny thing is that the baby thinks that we're real through the phone."
Outside of knitting, Newman also frequents movie theaters. "With my husband, we go to movies and go to good restaurants. I like to check out the little holes in the walls in the cities. That's something we really enjoy." Recently, she's seen Green Book, which won Best Picture at the Academy Awards. "I like going to movies to enjoy the movie. I don't like scary movies. I like the ones with good stories."
With a 21:1 student to faculty ratio at UW-River Falls, it's beneficial for students to learn that their professors aren't always as intimidating as they may appear. In an attempt to make staff more approachable to students, as well as a place for staff to show off their accomplishments, The Student Voice is proud to showcase UW-River Falls staff and faculty members with interesting hobbies or pastimes.
If you're interested in having your interesting hobbies showcased, contact reporter Kacey Joslin at kassaundra.joslin@my.uwrf.edu