WRFW celebrates 50 years by going on air for the first time since May 2018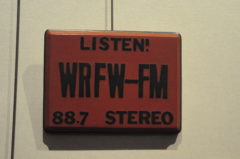 WRFW, the University of Wisconsin-River Falls campus radio station, celebrated its 50th anniversary on Saturday, November 3. The day-long celebration consisted of numerous events, reunions between old friends, and a united love and passion for the small time campus radio station.
The festivities for the celebration began with the grand opening of the 'WRFW Five-0: 50 Years of Broadcasting at UWRF' exhibit at the River Falls Public Library. The exhibit contained a number of artifacts from WRFW's first 50 years, photographs telling their own individual stories of WRFW experience and unique apparel designed and worn fashionably by students of WRFW's past. For some alumni, the exhibit was their first stop on the day's trip down memory lane.
"I couldn't believe what I was seeing," said Wally Langfellow, 1983 alumni and former WRFW sports director. "The photos and memorabilia made it feel like we had just walked back into the [1982 studios]. The best part was reminiscing with others who had also been at the station during my tenure."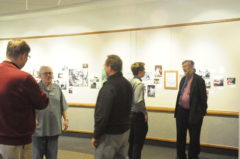 The station went on air for the first time since last May during the open house that showcased the new renovations to the WRFW station. This was not only a special treat for the current students who work on WRFW but allowed for 58 alum to come back onto the airwaves between the hours of noon and 6 pm. The open house also welcomed back more than 150 former UWRF students who had spent their college years on the airwaves of WRFW.
"It was a lot of fun being able to sit behind the same mics we sat behind almost two decades ago and share our memories with current [station] staff," said Andy Hall, 2000 alumni and afternoon drive host on LAZER 103.3 in Des Moines, Iowa. "There was an element of fun to what we did back then, but the experience itself provided so much more than that, opportunities that wouldn't have been possible otherwise. I've got an incredible career in broadcasting to this day, thanks to WRFW"
Moving into the evening portion of the celebration, a reception was held for WRFW's 50th in the Falcon's Nest at the University Center. The reception welcomed back more alum of the station who were not able to attend the open house. During the reception, alum were treated to more time to reconnect with old friends they had not seen for many years.
There were multiple speeches given as well, including ones from alumni such as Lorin Robinson, Cathy Wurzer, Ted Allison, and Boyd Huppert, who described WRFW as "a place where all the oddballs could gather." An auction was also held to help fundraise money for the current students at WRFW could be able to purchase new equipment for the newly renovated station. Alumni like Matt McConico, a 2000 graduate and news director at FOX43 in York, Penn., were able to bid on items such as on-air lights that hung in the previous studios.
"It was truly an honor to be able to come back and support the station that gave me opportunities to truly grow as a journalist," McConico said. "Plus, now I get to bring a piece of WRFW back to Pennsylvania with me!"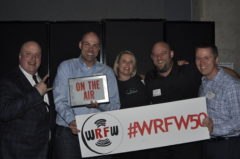 Finally, a tribute was present for the man who had spent 44 years as the chief engineer for WRFW, Al Murray. Murray had been the chief engineer for WRFW since it was founded in 1968 and retired from his position in 2012. Murray was unable to attend the events for the 50th-anniversary celebration but did send in an audio message to all of his former students he worked with at WRFW together over the years. To go along with that, there was a camera going around for alum who had worked with Murray over the years to be able to send a video message of their own to him for Murray to smile at the reunion of old friends and students.
Overall, the celebration for the 50th anniversary of WRFW was a grand success not only for the current and former students of WRFW but for the entire River Falls community. 50 years of existence is an achievement for anything, and even more so for a small town college campus radio station. The legacy of WRFW's first 50 years alone is a triumph that will stand for current students who are apart of WRFW's future who will hopefully be around in another 50 years to celebrate the centennial anniversary of WRFW.