Chicago Bears visit UWRF football team, scout Alex Herink
The Chicago Bears visited the University of Wisconsin-River Fall's football team on Wednesday, October 24, to scout senior wide receiver Alex Herink. Multiple Bears area scouts watched Herink, 22, at his afternoon practice on Ramer Field at Smith Stadium.
"They wanted to measure him up and watch him practice", Head Coach Matt Walker said. "Herink is getting interest from the next level and we've been in touch with a number of scouts from different teams."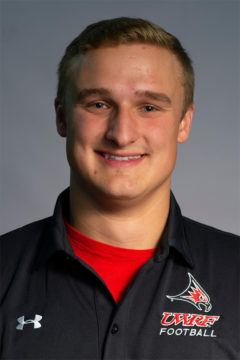 The 6'7", 251-pound receiver, who is from Hudson, Wisconsin, is eligible for upcoming 2019 NFL Draft. This is Herink's first season with the football team, as he spent the last four seasons playing collegiate basketball. The 2017 WIAC Basketball Player of the Year has been having a stellar season through eight games, tallying 30 receptions, 555 receiving yards and eight touchdowns.
"He's unique because of his size, it's what the NFL teams would call a redeeming quality", Coach Walker said. "If you have the ability to play they will find you, they are not going to miss. You are going to get found if you belong."
Coach Walker further emphasized this point, saying, "They don't come over unless they do their homework watching our film. They are crazy video watchers and knew numbers of guys on our team before they even got here".
While Herink is drawing interest from NFL teams, he isn't the first Falcon to have ties to the league. Former defensive lineman Nick Jacobsen spent some time earlier in 2018 with the Minnesota Vikings at rookie minicamp on a tryout. However, Jacobsen wasn't signed to a deal and now is in a police academy for the State of Wisconsin.
"It was a quick cup of coffee, but it was a shot, not too many guys get to minicamp. He was the most dominant player in the country at D-III", Coach Walker said. "It's more proof to people who don't understand the caliber of this league. [There are] teams winning leagues across the country that would have no shot of beating anyone in our league".
Currently Herink is second in the WIAC in receiving touchdowns and sixth in total receiving yards. In his most recent game, a 42-24 victory over UW-Eau Claire, he caught four passes for 76 yards and two touchdowns.
Coach Walker believes that eventually a player from UW-River Falls will make it in the NFL and thinks Herink has as good of a shot as any D-III player.
"He's got one year of film, a tiny sample size compared to other people. In some ways it hurts him in other ways it helps him with how good he is without playing football for four years and play at this level against this competition", Coach Walker said. "It takes a lot of variables to fit the mold and he fits them all."
Coach Walker continued, saying that the story of a basketball player who converts to wide receiver and then to tight end in the NFL isn't an uncommon story.
Herink, who was originally recruited by Mankato state, spent two seasons playing for the Mavericks from 2014-2016, starting 45 games. He then transferred to UW-River Falls and played two more seasons of basketball with the Falcons, leading the team to a 43-13 record under his tenure. He won the WIAC regular season title in 2016-2017 and last season averaged 15.4 points and 6.4 rebounds per game.