Softball Head Coach Perkins to retire following 2015 season
Faye Perkins, the head softball coach at UW-River Falls for 22 of the last 27 seasons, has decided the 2015 campaign will be her last.
Perkins has won more games than any other head coach in UWRF softball history, posting a 456-381-2 career record at the university. Perkins has a 500-400-2 overall career coaching record as she spent two seasons as head coach at Tarkio College, located in Tarkio, Missouri. She won her 500th career game in the team's 9-1 win over UW-Platteville last April.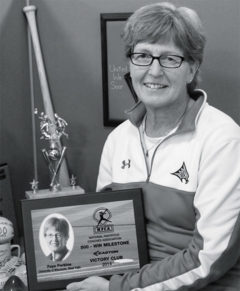 Perkins' most notable season at UWRF was in 2012, a year in which the Falcons won a school record 34 games in route to its second-straight WIAC title and a spot in the NCAA national playoffs. Perkins, along with the rest of the coaching staff that season, was named the National Fastpitch Coaches Association Great Lakes Regional coach staff of the year.
Perkins has created a tradition from the moment she began her coaching tenure at UWRF in 1989. Athletic Director Roger Ternes had nothing but high praise for the legendary coach.
"Faye's dedication and loyalty to [UW-River Falls], the softball program and the women who played the game is extraordinary," Ternes said. "Her coaching legacy since 1989 is historic. Her tenure as the head softball coach at [UW-River Falls] is the longest in school history, and we thank Faye for her exceptional leadership."
Perkins has created an impressive coaching tree beneath her over the years. UW-Stout Head Coach Chris Stainer, a former UWRF pitcher and a three-time all-WIAC selection, played under Perkins from 1989-1992. Stainer was also assistant coach at UWRF from 1993-1997, and was a part of two WIAC titles in her time with Perkins. Stainer, who won the 2014 WIAC coach of the year, says that coach Perkins' legacy is not only on the field, but very much off of it as well.
"Coach's legacy is vast–it's about being your best–both on the field, and in life," Stainer said. "She challenged you to be your very best on the field, but also in the classroom, in the community, and to respect the person you choose to be. I grew more in the four years that I had played for her, than most of my childhood."
Perkins will take a team into the 2015 campaign that isn't the strongest in Perkins' time with the Falcons, yet these Falcons players can be a part of something no other players at UWRF can say they were a part of, and that is being a part of the final game of a legendary softball coach.
"It will be emotional, I don't even want to think about stepping off the field for the last time," Perkins said. "I don't think I'll ever walk off the field for the last time, I know I'll still be involved, I know I will always be involved with the River Falls softball program at some level."
The UWRF softball team starts its season at 11 a.m. on Saturday, Feb. 28, at the Rochester Regional Bubble in Rochester, Minnesota, against the Augsburg College Auggies.